Shepard Smith Sits Down With Rep. Giffords Intern Daniel Hernandez Before All-Star Game First Pitch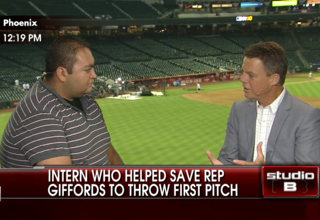 With tonight's MLB All-Star Game set in Arizona, organizers decided to use the opportunity to honor and showcase one of the state's most beloved heroes, the young intern that saved Rep. Gabrielle Giffords' life during last January's fatal shooting. Before tossing out the first pitch, Daniel Hernandez sat down for a chat with Shepard Smith on the opportunities before him since the incident, how he and other victims are coping, and moving forward for Arizona.
Hernandez, who had just been hired when he was careful to move the maimed Rep. Giffords into an upright position so as to keep her from choking on her blood, thus saving her life, was palpably excited to be at the game and throw the first pitch, telling Smith that he had been practicing and was hoping to keep the ball from bouncing. He updated viewers on his life since January– plenty of first aid awareness and volunteer work, he said– and on how grateful he was for the opportunities. "I've had a lot of opportunities that I never would have had before to go out and speak to, especially young people about the importance of getting involved," he explained. "I'm very busy, but I'm loving every second of being about to talk about the things that are important to me."
Smith also noted that Hernandez had saved the Congresswoman's life in less than 30 seconds, and asked whether his outlook on life had changed since the incident as he now knew that "ten seconds from now, no matter what happens, you may be in a position to save a life." Hernandez answered that it has definitely had an effect: "you really have a different world outlook when you realize that in ten seconds you really can make a difference." He also spoke to how the family of Christina Taylor Green were coping with her loss, and how happy he was to get a chance to see them, as they had not been together in some time given the family's mourning. He concluded praising them for their poise in such a tragic situation.
The segment via Fox News below:

Have a tip we should know? tips@mediaite.com