Soledad O'Brien Challenges GOP Sen. On Susan Rice: Where's The Frustration With CIA, Obama?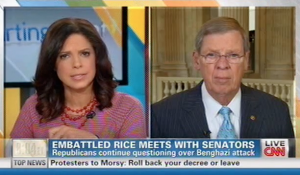 On Wednesday's Starting Point, Soledad O'Brien spoke with Republican Georgia Senator Johnny Isakson about the criticism directed toward UN Ambassador Susan Rice following the attack on the U.S. consulate in Benghazi. Questioning whether the critics are "shooting the messenger," O'Brien further asked why the same degree of frustration hasn't been directed toward President Barack Obama and the CIA.
Asked about Rice's possible nomination for Secretary of State, Isakson replied that without "some resolution" of the events surrounding Benghazi, "I doubt she will be confirmed."
"Are you shooting the messenger?" O'Brien followed up, asking whether Isakson believes is lying or doing something "intentionally wrong."
He replied that Rice is a smart woman whose done well as ambassador but that there are too many questions surrounding Benghazi. We need to " find out what we really did know, what we did wrong and make sure we never do it again."
O'Brien then asked why Secretary of State Hillary Clinton isn't getting the bulk of the blame for what happened. "I don't hear the same frustration with the CIA, which has said that they were the ones who wrote the talking points," she said. "I don't hear the same frustration even with the president, who said the buck stops with him. I don't hear the same frustration with Hillary Clinton."
It's falling into the lap of a UN ambassador who was a "spokesperson going off talking points," she said.
"She was put on the tip of the spear. That's the reason she's upfront," Isakson said, also giving the president credit for saying the critics should blame him not Rice. But there are too many unanswered questions, he said.
Watch below, via CNN:

Have a tip we should know? tips@mediaite.com