Speculation: Who is the Anonymous White House Official Behind the 'Resistance' Op-Ed?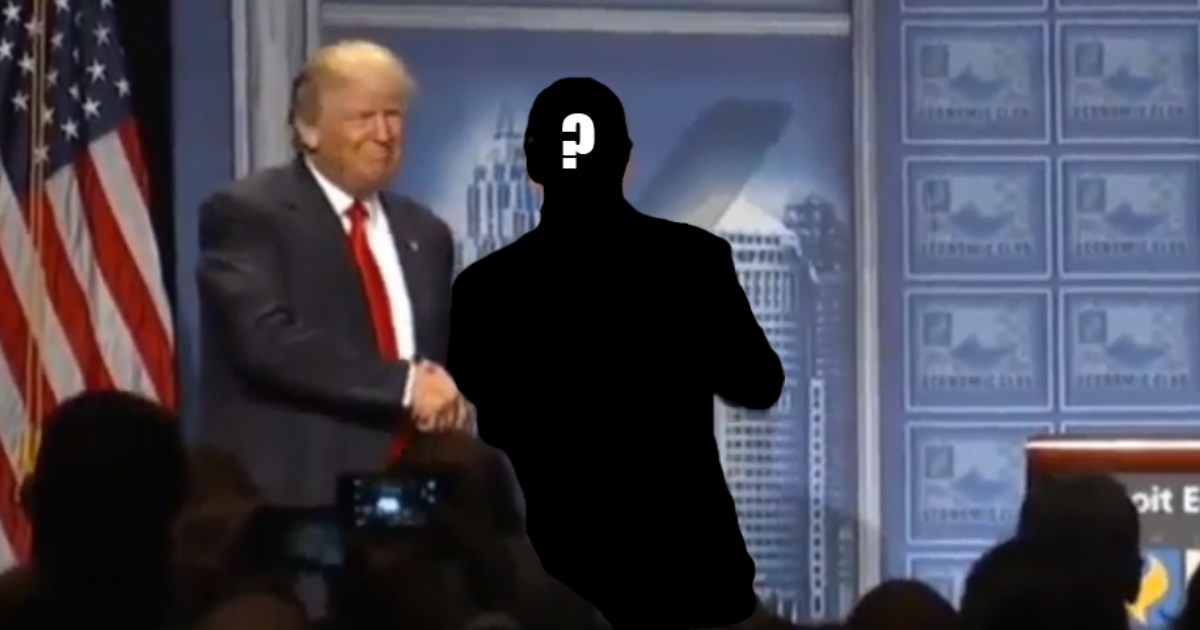 The New York Times dropped a bomb on the news cycle Wednesday afternoon when the paper published an op-ed from an anonymous, senior administration official that tells the story of resistance against Donald Trump within the White House. And everyone wants to know who it is.
Speculation naturally followed immediately after publication, and internet sleuthing started with the words themselves. The premise, voiced below by an MSNBC tech reporter, is that the style or choice of words will lead inevitably to the writer.
1. wow
2. i would be way too paranoid someone would ID my writing style to ever go through with something like thishttps://t.co/uIoD6fNw0y

— ಠ_ಠ (@MikeIsaac) September 5, 2018
And on that line of thinking, Panoply's Dan Bloom noted something one fairly intriguing term: "lodestar."
The word is "LODESTAR." Note that it comes in the same paragraph praising John McCain. That would rule out flame-throwers like Stephen Miller and Dan Scavino and suggest someone with Senate ties. This reveal is not going to take long. pic.twitter.com/NwnUtvFlko

— Dan Bloom (@danbl00m) September 5, 2018
That word choice brought the trail to…
…an example pops up of Vice President Mike Pence using the word "lodestar" in a speech at the UN in September 2017. https://t.co/CI1PUzDUdA pic.twitter.com/OrOYrFgP0M

— Dan Bloom (@danbl00m) September 5, 2018
Who's the one person in the Trump administration who can't get fired? pic.twitter.com/G4bMYUu05T

— Jim Treacher (@jtLOL) September 5, 2018
Vice President Mike Pence? A theory very hard to credit, but the word choice is nevertheless almost impossible to ignore. Which then might lead one to think of Pence's speechwriter, Stephen Ford.
Ford, you will realize, worked on the speech that Pence gave at John McCain's memorial, an event referenced in the anonymous op-ed.
And he's not just a speechwriter, he's also formerly a Koch insider and employee of Americans for Prosperity. In fact he was named in an article elaborating on how many Koch insiders were making it into the Trump administration's upper echelons (a sort of cadre of "like-minded colleagues" if you will.) Add to that the Koch catchphrase "anti-trade" which is one of the chief criticisms of Trump in the editorial.
On Twitter, after Ford's name was floated more than once, a turn in the other direction.
Good point. @lukasneville suggested Stephen Ford, Pence's speechwriter. But Ford has only worked for Pence since 2017, and the earliest usage we have so far is 2011.

— Dan Bloom (@danbl00m) September 5, 2018
So perhaps a dead-end, or maybe "lodestar" is a favored phrase of someone who has been with Pence for a longer period of time and has influence over speeches. Or perhaps it's the VP's beloved turn of phrase, and a skilled speechwriter simply emulated the boss's style.
Or perhaps the whole "lodestar" trail just goes down a rabbit hole. After all, as the Washington Post's David Nakamura points out, the number of people who can credibly claim to be a senior administration official is not a small one.
Most DC journalists, incl. me, have quoted a "senior administration official" in stories. But I feel as though an op-ed like this should have an editor's note explaining what an SAO is. There are 1,212 Senate-confirmed positions, incl. 640 'key' jobs https://t.co/9WNva10ZOr https://t.co/CySe7znom1

— David Nakamura (@DavidNakamura) September 5, 2018
Of course, not everyone is hunting on the same game trail. There are other theories.
Written by Donald Trump himself. Or, his new "communications director" Guy Incognito. https://t.co/GlIKm7T5ly

— Brodigan Strong Style (@brodigan) September 5, 2018
You might laugh, but still … think about it. The Trump base will certainly find this to be not only a betrayal, but a rallying cry against the "deep state" or "Never Trump" boogeyman they loathe. Just sayin'.
Everyone has a theory, or is working on one. As New York Magazine's Yashar Ali points out, power isn't always in the hands of the people who mug for the camera.
Have spoken to several White House reporters and senior administration officials…they all have an idea of who the writer is….and none of the guesses are famous names…but they're powerful officials. https://t.co/iIYivymvuU

— Yashar Ali ? (@yashar) September 5, 2018
Whoever it is, they aren't outted yet, but if history is a guide, it won't be long until they are. Then the wrath, and the fallout, begin in earnest.
[Featured image via screengrab]
—
Follow Caleb Howe (@CalebHowe) on Twitter
Have a tip we should know? tips@mediaite.com