Stephanopoulos Asks Reince Priebus If The Romney Campaign Is 'In Denial' About Impact Of 47% Comments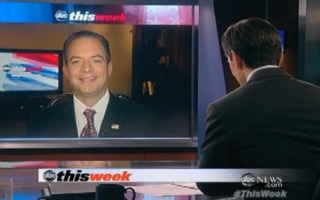 Appearing on ABC's This Week, Republican National Committee Chairman Reince Priebus joined George Stephanopoulos to talk about the now-infamous hidden camera video in which Republican presidential candidate Mitt Romney talked about the 47 percent of Americans who pay no income tax as well as the members of the GOP expressing anxiety that the Romney campaign needs to rethink their strategy. When Priebus insisted that the Romney campaign is still competitive with President Barack Obama, Stephanopoulos asked if they were in a state of denial over the negative impact of the GOP nominee's comments.

RELATED: David Frum Savages Mitt Romney Over His Comments About The 47 Percent
Stephanopoulos asked Priebus about the impact that Romney's comments about the 47 percent would have on the trajectory of the presidential race.
"Governor Romney's been pretty clear, it wasn't the best-said moment in the campaign and probably not the best week in the campaign," Priebus said. He said that this week would be seen as the week when the Obama and Romney campaign's messages crystalized around a dependency society or a future of independence.
"You like the choice that was presented to votes last week," Stephanopoulos asked.
"No," said Priebus. He clarified that the message the Romney campaign has embraced in the wake of the 47 percent comments around dependency is a strong political argument.
Priebus was asked about critics of Romney on the right, notably Wall Street Journal columnist Peggy Noonan, who called the Romney campaign a "rolling calamity."
Priebus called Noonan "really smart" and said that he respects and admires those who are concerned about the Romney campaign's message. "I'm not sitting here talking to you because I'm worried about the future of the Republican party," said Priebus. "We're worried about the future of our country." He said, in this way, he can understand the anxiety of his fellow conservatives.
Watch the segment below via ABC:
> >Follow Noah Rothman (@Noah_C_Rothman) on Twitter
Have a tip we should know? [email protected]