Stephen Colbert Calls Laura Ingraham's Writing "Terrible" In Hilariously Biting Interview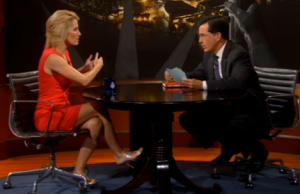 Stephen Colbert is one ballsy dude and there's nothing that makes that clearer than his ability to say horrible, horrible things to someone right to their face (and be hilarious while doing it). While last night's interview with Laura Ingraham wasn't at the evisceration level of his infamous keynote speech at the 2006 White House Correspondents' Association dinner, it still bordered on the uncomfortable. Discussing Ingraham's bestselling The Obama Diaries, Colbert remained in character and pretended as if he actually believed President Obama wrote the book. He then acted shocked that the president's writing was so "terrible." Ouch!
Colbert accused "Obama's" writing of promoting the Conservative narrative and dealing in hackneyed racial stereotypes. This, though, is probably the most painful comment:
"Well, I don't know, I've read a fair amount of this book, and I know he's not supposed to be a dumb guy, but this writing is terrible! I mean, it has the most banal turns of phrase!"
Ingraham had the choice that many guests on the show do at this point; she could have tried to diss Colbert in return (almost always a mistake considering the host's in character and insanely clever) or play along. She chose the latter and ended up coming off as incredibly good natured. While it's safe to say that very few Report fans make up The Obama Diaries' massive readership, Ingraham's audience will be hard pressed to find any fault with how she presents herself here. As such, it will be interesting to see if she receives the famous "Colbert bump" considering that bump came in the form of a fist.
Have a tip we should know? tips@mediaite.com