Student Climate Protesters Storm Field and Interrupt Harvard-Yale Football Game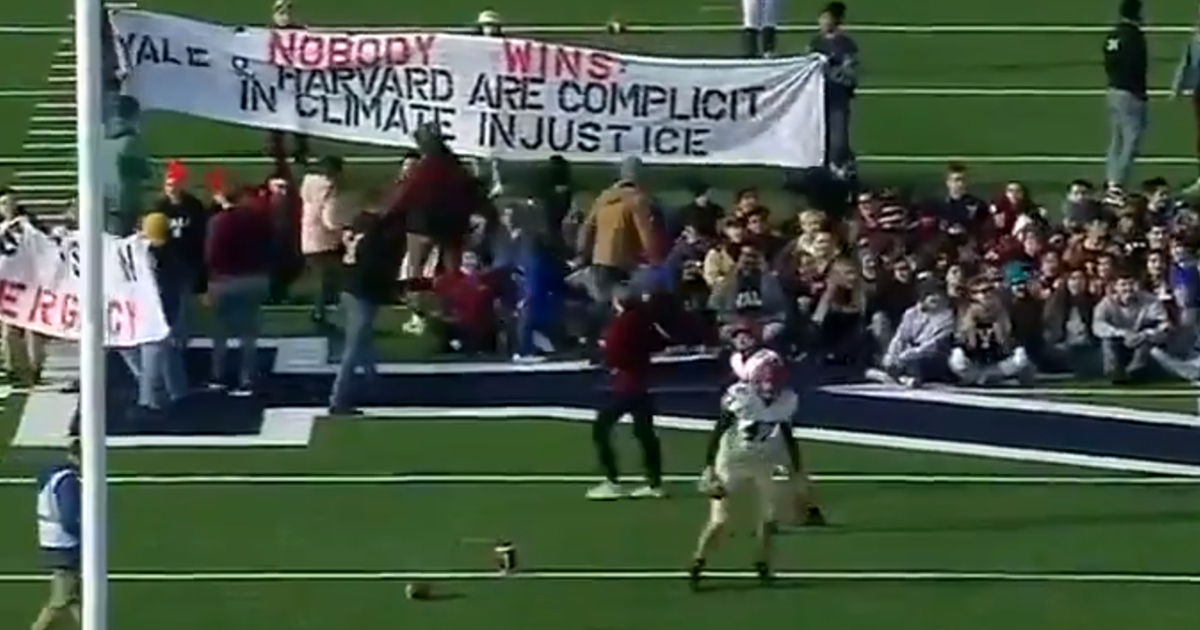 In New Haven, Connecticut on Saturday, students from both Harvard and Yale took to the field at halftime to stage a "sit-in" protest over climate change. When it came time for the game to resume the students remained on the field, getting a lot of media and online attention.
At halftime of Harvard-Yale a sit in protesting climate issues has broken out on the field, at least delaying the second half and the way the protest is growing I would be shocked if the game continues. pic.twitter.com/2BWCU2fLuI

— Joel Sherman (@Joelsherman1) November 23, 2019
Shouting things like "Hey hey, ho ho, fossil fuels have got to go," the students held up signs accusing their respective schools of being "complicit" in "climate injustice."
Yale-Harvard is under delay because of a student protest. We've hit peak 2019. pic.twitter.com/Am5e12U2el

— Barstool Sports (@barstoolsports) November 23, 2019
TIME reports that when it came time for the game to resume, officials began making announcements over the PA system: "As a courtesy to both teams, the game must resume." New York Post sports columnist Joel Sherman tweeted a photo and said that many of those who streamed on the field to join the protesters left voluntarily, but some stayed.
Most protesters left. But many staying behind and security has moved in and some security has more forcefully removed protesters at the Harvard-Yale game. pic.twitter.com/eh7PTm8Eve

— Joel Sherman (@Joelsherman1) November 23, 2019
Eventually, after an hour delay, the game resumed.
Protesters for the most part left peacefully, often with security and police escorts. The second half of Harvard-Yale has begun after roughly an hour delay.

— Joel Sherman (@Joelsherman1) November 23, 2019
The protest group Divest Harvard took credit on social media. The students said they disrupted the game over fossil fuel and Puerto Rican debt holdings.
"We ar Demanding" Harvard and Yale "to divest from fossil fuels," wrote the Ivy League students.
That's right! We're disrupting The Game because we know that #NobodyWins when our universities profit from destruction and extraction. We ar Demanding #HarvardYale to divest from fossil fuels and cancel their holdings in Puerto Rican debt. https://t.co/ERFWhvUQDX

— Divest Harvard ? (@DivestHarvard) November 23, 2019
—
Have a tip we should know? tips@mediaite.com
Caleb Howe - Contributing Editor