Student 'Suspended For Saying All Lives Matter' Wasn't Suspended For Saying All Lives Matter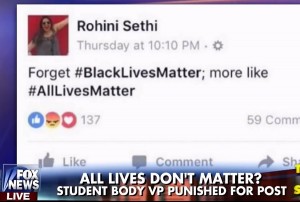 Over the weekend, the conservative media exploded with outrage over headlines proclaiming that a University of Houston Student was "Suspended Over #AllLivesMatter Facebook Post," or that "'All Lives Matter' Gets Texas Student Suspended, Sent To Diversity Workshop," or other variations on that theme. The phrase "All Lives Matter" is seen by many as a disrespectful rejoinder to the Black Lives Matter movement, while opponents of BLM cover claim they're simply trying to include everyone because they think the movement is saying that "ONLY Black Lives Matter," which is the opposite of what it's saying.
Still, to suspend a student from school just for saying that "all lives matter" is outrageous, even if neither of those things actually happened. Here's how Fox and Friends covered the story Tuesday morning, see if you can spot the problems with this kerfuffle:
All lives matter, right? Apparently not to the University of Houston.
The student in question, University of Houston Student Government Association Vice President Rohini Sethi, didn't run afoul of the students who elected her by saying "All Lives Matter," she upset them by saying "Forget #BlackLivesMatter," and she wasn't suspended from school, or sanctioned in any way by the school, she was temporarily suspended from her position in student government. Even that sensitivity workshop the wingers are up in arms about was something Sethi volunteered to do, according to The Washington Post.
The students elect, and pay a stipend to, officers like Sethi, so they were well within their rights to remove her. If conservatives want to get angry about that, that's fine, but they ought to tell the truth about it.
This is an opinion piece. The views expressed in this article are those of just the author.