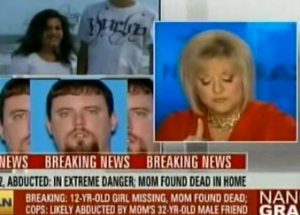 HLN's Nancy Grace returned to work Monday night after taking time off for extensive emergency surgery to remove a lump that the host feared was cancer, but was ultimately found to be benign.
Grace called into her show from a hospital last week to tell viewers about the "feeling" she had that led her to a doctor's appointment and the discovery of a mass, but on her return she made no mention of the incident–diving right back into her standard format.
It was a viewer's phone call that stopped the host in her tracks and moved her to tears:

GRACE: Brianna in Florida. Hi Brianna.

BRIANNA: Hi Nancy, so glad you're back. We've been praying for you.

GRACE: Hold on. I really believe, like when the twins were born, and Lucy and I had so many problems. I really believe that your prayers were heard. Because I'm telling you–laugh if you want, mock me if you want–but I was not alone. I know that God was with me and pulled me through this. So I appreciate your prayers.

BRIANNA: You're welcome, Nancy.
Watch it here, from CNN:
It was a nice moment in a typically high-octane and intense show. Though it was a touch jarring to have the emotional host speak of the power of prayer while the "breaking news" banner continued to scroll and the pictures of a missing girl and a suspected abductor continued to play in two large boxes on the screen. Just saying.
Have a tip we should know? tips@mediaite.com