Texas Gun Store Owner Tries To Make The Case To Piers Morgan That Teachers Should Have Guns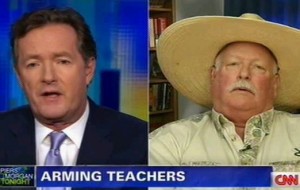 In the wake of last Friday's shooting at an elementary school in Newtown, Connecticut, one particularly controversial argument coming from gun owners is that teachers should have guns in schools in case of situations like these. One Texas gun store owner made the case to Piers Morgan tonight, arguing that a teacher or principal properly trained in how to handle an AR-15 could fire once and take out a shooter before anyone else is killed.
RELATED: Piers Morgan Eviscerates Pro-Gun Advocate: 'You're An Unbelievably Stupid Man, Aren't You?'
Crockett Keller explained to Morgan that he doesn't necessarily think every single teacher should be armed, only "volunteer teachers that are willing to go through extra training." Morgan highlighted that Keller is offering special discounts to teachers at his store. Keller said he has a great deal of respect for teachers and just wants to help them out.
Morgan asked Keller where teachers should keep the guns. Keller said they should have it on them at all times, to which Morgan brought up the scenario of a gun tumbling out of their harness and a schoolchild picking it up. Keller said it is the role of teachers to be more responsible.
On the subject of gun control, Keller said he opposes any kind of ban on firearms, believing the current rules and regulations of owning guns to be sufficient. Morgan brought up the fact that AR-15s were used in other shooting incidents this year. Keller insisted one person with a concealed handgun could have stopped them, and even suggested school principals be armed with AR-15s themselves.
Morgan challenged Keller on the idea that a second AR-15 would do anything but cause more chaos and panic. Keller insisted any teachers with guns in their possession would be properly trained, and dismissed the idea of shooting "hundreds of rounds" in a matter of seconds as "Hollywood stuff." Morgan pointed out that is exactly what happened in Newtown and Aurora, Colorado.
Watch the video below, courtesy of CNN:
—–
Follow Josh Feldman on Twitter: @feldmaniac
Have a tip we should know? tips@mediaite.com
Josh Feldman - Senior Editor