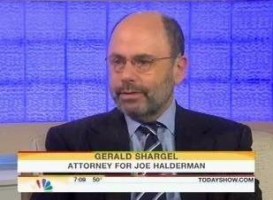 You may think you know about the David Letterman extortion/sex with staffers story, but really, you only know one side of the story (or maybe no side of the story at all).
At least that's what Robert J. Halderman's lawyer wants you to believe, as he made a few the first of likely to be many media appearances, dropping references to Letterman's 'manipulation' and giving a vague defense argument preview.
Gerald Shargel was interviewed by Geraldo Rivera on Fox News last night, and Ann Curry on the Today show today. And the tale he's beginning to weave is sounding like one fantastic 48 Hours Mystery episode – of which Halderman was a longtime, Emmy award winning producer.
"It's not only a question of having sexual affairs – that might be a big yawn, this is 21st century America," said Shargel to Rivera. "But that's not the issue; I think the larger issue at the trial, will be, who did he have the affair with?" Wait, I thought we knew who he had the affair with? And how does who he had the affair with have anything to do with extortion? Stay tuned.
"Specific criminal intent, that's an element to a crime," he said in the FNC interview. "And, I'm saying that Joe Halderman did not have specific criminal intent. More on that later. I'm not identifying any defenses, but as time goes on, I may be back."
I have no idea what that means, but I'll stay tuned after the commercial break to see what the hell he's talking about!
Curry, who billed the interview as Halderman's "first chance to be heard" despite the fact that he was on FNC the night before, had a bit of a contentious exchange. But the best quote from Shargel was this – about Letterman's "side" being public already. "David Letterman didn't give his side of the story. David Letterman gave what he wanted the public to know," said Shargel. We'll have to run this by the boss, Dan Abrams, but wasn't Letterman's 10-minute speech his "side of the story?"
There was more though:
He wanted to get out ahead of the story and that's exactly what he did. he's a master at manipulating audiences. that's what he does for a living. so to think that David Letterman gave the entire story and there's nothing more to be said is simply wrong.
NEXT: See Curry and Rivera's full interviews.
Have a tip we should know? tips@mediaite.com