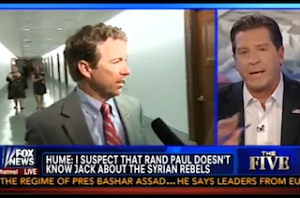 The Five continued their ongoing discussion about Syria today in light of comments made by President Obama during a G20 press conference in St. Petersburg, Russia. The hosts were still sharply divided over the question of military action, reflecting the split between hawkish conservations like Sen. John McCain and isolationist libertarians like Sen. Rand Paul.
"How can you morally justify your position on this?" Bob Beckel asked Eric Bolling, who has been vocally (and visibly) against the strike all week.
"You can't morally justify attacking, killing innocent people, putting Americans at risk," Bolling responded, "without knowing exactly what is going on on the ground in Syria." He pointed to the widely-circulated video of rebels executing Syrian soldiers as evidence that the situation is not as clear cut as some on the Obama Administration want it to be.
"The moral obligation that we have," Beckel said, "is to not have every despot in the world have chemical weapons and feel free to use them without having to pay a price for it."
Bolling replied that if can justify attacking Syria, why not attack North Korea, which has chemical weapons as well? Beckel pointed out that the key difference is that the Syrian regime used them.
"This is not about Syria. It is about Iran and it may in fact be about Russia," Greg Gutfeld said, jumping into the fray. "So, why are we pretending it is about Syria? Just go hit the damn nukes in Iran and be done with it."
To highlight the divide that exists on the issue within the Republican Party, the show played the clip of Fox's Brit Hume saying Rand Paul "doesn't know jack" about the Syrian rebels, while John McCain at least spent time with them in Syria.
"There is a good chance that John McCain, even though he has been there, doesn't know jack about them," Bolling responded, "as evidenced by him taking pictures with some rebels who he thought were good guys but ended up being alleged kidnappers."
On the other hand, Beckel said Hume was "exactly right." Rand Paul and others who oppose intervention "don't know jack." He said that whoever told Obama to go to Congress for a resolution in the first place "ought to be in trouble," adding, "Screw 'em! They didn't have to do that."
Watch video below, via Fox News:
photo via screengrab]
— —
>> Follow Matt Wilstein (@TheMattWilstein) on Twitter
Have a tip we should know? tips@mediaite.com