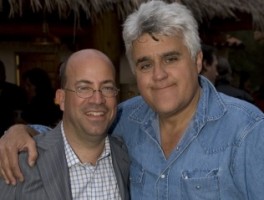 Media critics are, among other things, a spiteful and jealous lot. Covering programming decisions made by TV execs lends itself to actions and attitudes most similar to the worst type of sports fans — taking for granted any successful or smart decision, while relishing the chance to boo every bad play or mistake.
Take, for example, the recent schadenfreude expressed over NBC's decision to put Jay Leno back in the 11:30 slot after the failed experiment of putting him at 10pm. In any other world this sort of experimentation would be lauded, and the pursuant admission of making a mistake would be celebrated as well. But in this case? Not so much — the entertainment media has gleefully bared its gnashing teeth with "Zucked this up!" headlines.
So, when exactly did our expectations of TV execs get elevated to that of perfection? Shouldn't we be offering praise for the bold experimentation and reinvention? Isn't the humble admission of making a mistake noteworthy, particularly given this notoriously megalomaniacal set of smartest-guys-in-the-room?
But perhaps most importantly, if the alpha men and women whose decisions inform our TV schedule are now free to admit they've made a mistake, how will that change the television landscape? Of the recent beneficiaries of programming moves, who should be most concerned that his or her new elevated status was a mistake? Who is the next Jay Leno?
While there are lots of good reasons to criticize any media executive, I find it refreshing that an executive team appears flexible enough to admit that experiment didn't work out. Further, this sort of trial and failure approach could be the dawn of a new era where senior managers own up to mistakes in the name of improved performance. If that's the case, let's look at some recent programming decisions and see how the Leno Principle could affect them.
Diane Sawyer – Recently named replacement of Charlie Gibson as anchor of World News. While the first week's ratings were somewhat tepid, conventional wisdom has her staying in this role for some time. Her warm and charming personality was honed on GMA, but she has the journalistic chops and gravitas necessary to succeed as the nightly news anchor for ABC News flagship program. In short, she ain't going anywhere.
George Stephanopoulos went from hosting ABC's hard-hitting Sunday morning news program This Week, to hosting the morning show Good Morning America. His audience went from political junkies (which is in Stephanopoulos' wheel house) to, well… the viewers of GMA. Early returns are sketchy, as the chemistry on the set of GMA isn't that comfortable (yet). The question remains whether or not George will soften his style enough to be a great fit for a morning news show, and at least this writer is skeptical. Stephanopoulos offers great value in any newsroom, and he will most likely always have a place at ABC News. But the early returns don't look good for a long-term stay at GMA.
David Gregory was selected to host Meet the Press, and had probably the biggest shoes to fill in replacing recently departed Tim Russert. The ratings have been off at MTP, but it's hard to lay the blame at the feet of Gregory — when you replace a recognized legend in news, you are bound to pale in comparison. That said, Gregory brings his own unique style to the table, and is beginning to carve out his own following. Therefore, we expect Gregory to host MTP for at least a few more years, if not much longer.
Lou Dobbs created a bit of a stir when he announced that he was leaving CNN on that very day! The media maelstrom of his departure lasted but a few days, perhaps proving that CNN knew what they were doing in letting him go. Suffice to say, there is likely no second guessing by either CNN execs, nor Dobbs – he is definitely not going back to CNN.
Sean Hannity recently went from sharing his hour-long program with Alan Colmes to getting the entire show to himself. Colmes served as an interesting device to Sean Hannity pro-conservative ways, and when he left, Hannity appeared, at least to this viewer, to be a bit off of his game. But since then, Hannity has found a kinder, softer and more humorous side, without sacrificing any of his searing and, at times, controversial analysis. Hannity's solo career seems to have been a wise decision by the programmers at FNC, and its hard to imagine that changing in the foreseeable future.
Have a tip we should know? tips@mediaite.com