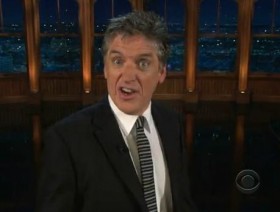 David Letterman has had huge ratings this week: 5.7 million people tuned in Monday night for the follow-up show to last Thursday's mea culpa mea culpa, which was teased before hand by news that he'd be delivering an on-air apology, and by a short clip of monologue jokes about his extortion-and-workplace-sex scandal.
Comparison: Conan O'Brien's Tonight Show on NBC had 2.3 million viewers. In fact, Letterman beat everything in NBC's prime time line up — including his old foe Jay Leno.
This is good news not only for Letterman — ratings are the silveriest of linings in TV land — but for Craig Ferguson, whose Late Late Show follows him — and potentially CBS' The Early Show, depending on how many people fall asleep with the TV on.
I'm going to use myself as a test case. Here's what I did on Monday night: Watched Letterman, but I was at the office so I went home straight after (fell asleep watching a documentary about crocodiles on PBS. Be freaked out and have nightmares along with me here). Here's why this is relevant: I made a point of watching Letterman, and when I got home I turned on the TV, and while I was scrolling through my DVR, got hooked on whatever was on. I am that kind of TV watcher.
More proof? Last night I tuned into Letterman again (the very garrulous Paul Shaffer would have reminded any Sondheim fan of this) — but I was at home, so the TV stayed on. Hi, Craig Ferguson! I loved the Mmm-Bop opening of your show, and Julia Louis-Dreyfus was a terrific guest. Also, good to know that your tattoo goes all the way to your penis. Since I like to work with the TV on in the background, I "watched" CBS for the next few hours until I passed out somewhere along the line. I woke up to Katie Couric and Lara Logan talking about Afghanistan with Harry Smith — and lo, the CBS Early Show had one more viewer.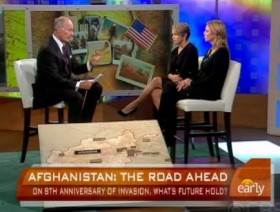 Okay, so not everyone keeps the vampiric hours of a blogger. (And to be honest, I don't always, either.) But otherwise I'm not that abnormal. I watch things on DVR, and though I'll flip around a bit to find something I like. I'm more likely to just settle on something quickly rather than maniacally scour the listings. (I mean, crocodile documentary? Really?) Working from home during the day, I keep the TV on even if I'm not that engaged, which is why I just looked up and thought, "Oh! They're still using the same set for the house on The Young and the Restless!" I'm thinking there must be people out there like me, who also keep the TV on for company — stay-at-home moms, unemployed people, college kids cutting class, hypochondriacs who are sure they have swine flu.
Normal? Um, whatever, but the point is this: Networks have been counting on the laziness of TV viewers for ages — that's why lead-in programs are so critical (I'm betting on a Diane Sawyer–World News tie-in on Oprah when she takes over the anchor chair). That's why Jon Stewart throws directly to Stephen Colbert and Keith Olbermann throws to Rachel Maddow. That's why Dancing With The Stars and American Idol help whatever they are before.
And that's why I predict this week will turn out to be a good one for Craig Ferguson — and the CBS Early Show. Will viewers stick around? That's always the question. Maybe Leno and Conan should start having an affair.
TV Moments Mentioned Above:
Katie Couric & Lara Logan Discuss Afghanistan [CBS]
Julia Louis-Dreyfus & Craig Ferguson Talk Tattoos, Douchebags [CBS]
Supersize Crocs: Nile Crocodile Ambush Power [PBS]
Have a tip we should know? tips@mediaite.com