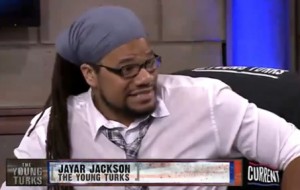 In a chilling sign of the times, mass shootings like the one in Aurora, Colorado and the Sikh temple in Oak Creek, Wisconsin, have become common enough occurrences that there's now an instructional video on how to survive an "active shooter event."
On Friday's The Young Turks, co-host Jayar Jackson revealed, on the air, that if a shooting goes down in their studio, he has other plans.
The City of Houston has just released a 6-minute PSA entitled RUN. HIDE. FIGHT. Surviving an Active Shooter Event, which instructs citizens on what to do during a mass shooting:
The video is a part of the Ready Houston initiative focusing on regional disaster preparedness, according to Talking Points Memo. The public service announcement has been funded by a grant from the Department of Homeland Security's Regional Catastrophic Planning Initiative, according to the Houston Chronicle.

The video's production was not in lieu of the Aurora shooting. The Chronicle reports that filming had wrapped up two weeks prior to the July 20 theater shooting.
According to host Cenk Uygur, the budget for the video was around $200,000, and if the clips he shows are any indication, then someone ought to give the producer a film deal, because it is terrifying. As producer Dave Koller points out, though, it's also on the sexist side.
"Who made that, Aaaron Sorkin?" he said, adding, " The men were all protecting the women, 'let me take you outside.' The men were the leaders. The men were holding the fire extinguisher. The women can stand up for themselves."
But it was Jayar who asked the grimly comical question "Y'all haven't been preparing for this for the last ten years? Are you guys serious about this? What are we talking about?"
What was funnier, though, was that Jackson's preparedness was already well known to his colleagues. "I knew Jayar was going to go in that direction," Cenk said, with a laugh. "The most paranoid man in America right here."
"I had five different plans in our old studio on how to take someone out if they ran into the office," Jayar continued.
"Can I say something real quick as you say that?" Cenk added. "Every once in a while, I would find a lead pipe or a bat somewhere and I would be like, 'what is this?' And Jayar would say 'that's plan number three.'"
Jackson was careful to explain that he wasn't judging anyone who chose to run or hide, but "you know what's not going to happen? I'm not going to sit in the corner, and it's OK!"
"Your back isn't bullet proof," he added. "You come at someone. You never know at what point you have a chance. I will say again for the third time, you're not a bad person if you don't. But that is the first thing that I think I would have to do. This person, the reason they have five guns is they're a coward. They're soft ,you know they are afraid of? Someone who's not going to back off from them."
Statistically speaking, there are several million things you could prepare for that are more likely than a mass shooting, but while Houston's PSA is incredibly terrifying, the relief that Jayar Jackson feels at having a plan is palpable.
Here's the clip, from The Young Turks:
Follow Tommy Christopher (@TommyXtopher) on Twitter.
Have a tip we should know? tips@mediaite.com