Trashing Obama: The First Sign Cory Booker May Have What It Takes To Unseat Chris Christie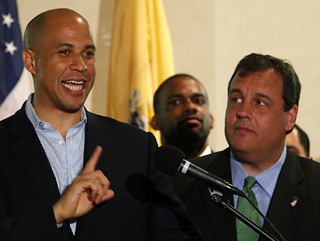 "[Cory] Booker would rather be seen on Oprah's couch than in City Hall," former Newark mayor Sharpe James remarked of a successor he once defeated long ago, before he became a convicted felon, to the Star-Ledger shortly after leaving jail. Mayor Cory Booker— the media darling, the movie star, the executive of a post-industrial tragedy of a city– has always had an image of being just a bit on the safe side for a New Jersey politician, a little too much of a goody two-shoes.

Perhaps knowingly, perhaps otherwise, the Mayor tore off the yoke of a pristine reputation from his chest yesterday in what many are considering a "gaffe" — attacking the President of his party (and his nation) with the vocabulary of a true New Jersey politician. And by turning the Democratic National Committee against him, Mayor Booker may have just put potential 2012 gubernatorial rival Gov. Chris Christie in checkmate.
RELATED: Mayor Cory Booker Calls President Obama's Bain Attacks 'Nauseating'
Booker's no good very bad national media weekend began with comments on the President during his appearance on Meet the Press, itself a bewildering event given Booker's status as a mayor of a large but otherwise unremarkable corner of America, with an unremarkable history compared to other mayors of national import like Rahm Emanuel or Michael Bloomberg. Nonetheless, a snow shoveling or heroic fire rescue here and there has made Booker enough of a national figure to be on Meet the Press, a program in which various national figures compete to see who can stick to their party's script in the most unoriginal way possible. Booker failed:
This kind of stuff is nauseating to me on both sides. It's nauseating to the American public. Enough is enough. Stop attacking private equity, stop attacking Jeremiah Wright. This stuff has got to stop, because what it does is it undermines, to me, what this country should be focused on. It's a distraction from the real issues. It's either going to be a small campaign about this crap, or it's going to be a big campaign, in my opinion, that the American public cares about.
Yes, that "nauseating" adjective was tossed at President Barack Obama, the leader of Booker's party. It took mere hours before Booker released what Morning Joe called a "hostage video" aimed at national eyes somewhat walking back his comments, but not apologizing for his vocabulary. The Democratic Party is reeling from giving a novice so much clout so quickly nationwide; RNC Chair Reince Priebus is calling this definitive proof the Democrats hate free speech. Both prove what New Jersey voter instinct has told them for a long time: the national parties are best disregarded.
Booker has not been one to do so, however, and, popular as he is, his flirtation with the national spotlight put him ever closer to state-wide backlash. But by attacking President Obama, Booker proves two things to his constituency and the one he might want to represent as governor in the future: (1) that he fears no one and answers to nothing but his own intuition (2) he doesn't care about the national spotlight as much as people like Sharpe James want voters to think he does.
The first point is obvious– if he is willing to call the leader of the free world (and, more importantly, the Democratic Party) "nauseating" on one of the most watched political shows in the country, he clearly knows it will get to the President and he doesn't care. The backlash from the national Democratic machine does nothing to hurt him in a state that cherishes above all else brutal honesty– the state that has rewarded its most vitriolic governor with the highest approval ratings it has given anyone in a long time. Not to mention that New Jersey, with its worship of untrustworthy political rascals culturally engrained, still isn't over being run to the ground by the last Democrat in power, Jon Corzine— for whom President Obama actively campaigned. Above all else, Booker's comments remind Jersey voters that he is no Jon Corzine. This also presents a contrast with Christie, who is among Mitt Romney's most formidable surrogates.
Beyond that, his comments remind voters in New Jersey that he is also far from President Obama's teacher's pet, nor is he averse to stirring up trouble. Booker is beloved by his city, but has the beginnings of an image problem in the state: he's the mayor with the Twitter account, the mayor who runs around doing rescue photo-ops instead of actual business. Take, for instance, the reaction to his fire rescue incident on NJ.com, where such comments as "Give credit where it's due for Chrissake" were actually necessary while the Mayor was in the hospital, as others quipped, "I am sure he will be all over the news along with his shoveling snow crusade. 'I will b ok'. Really? Are you sure? Your ego seems pretty bruised up over no Bruce tickets." New Jersey loves its principled villains and has little patience for Boy Scouts.
The national spotlight is a problem familiar to a state whose governor seems to spend the majority of his time yelling at people about Bruce Springsteen and making YouTube videos, but who wins back those who voted for him by shooing away the National Republican Party on an almost daily basis. While Governor Chris Christie has gone out of his way to eschew Mitt Romney and company, Booker has been almost too close for comfort with the national media. He is– or at least was, before Sunday– by any definition a media darling, and the DNC has much of a role in that. And that may precisely explain why Christie decided to tape a comedy video with him. It makes Christie look unafraid of a 2013 gubernatorial challenge from Booker, but underlines every single aspect of Booker's public image that could make him distasteful to voters: his penchant for individual acts of publicity heroism with no real indication that he knows much about the nuances of governing anything larger than a broken down city.
The narrative for the rest of the week (or, if we're lucky, just the next few days) will be one in which the Democrats will be out in full force reminding Americans that Booker is but a mayor; that his comments were ill-founded. It will be one in which Republicans joke about the Democrats taking Booker "hostage" and accuse them of hating free speech. But for the Garden State, Booker just won himself a shiny new badge of honor– the kind that took Christie all the way to the top.
[Photo via NYT]
Have a tip we should know? [email protected]