Trump: Chief Justice Roberts Wanted To 'Be Loved By The Washington Establishment'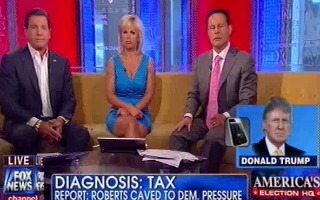 Real estate mogul and reality television star Donald Trump appeared on Fox & Friends on Monday to offer his thoughts on the Supreme Court upholding the Affordable Care Act last week. Trump said that he thought Supreme Court Justice John Roberts' decision was politically motivated, "disloyal" and intended to garner him the affection of "the Washington establishment."

RELATED: Chris Matthews Speculates How A Romney Presidency Would Change Supreme Court
Trump said that the Supreme Court's decision to find the health care reform law constitutional was a "disaster." He went on to say the decision by Roberts to side with the majority in saving the law resulted from his desire to "be loved by the Washington establishment."
"He is a beloved man to the liberals and to the Washington establishment and despised by the people that matter," said Trump. "In a sense, he was extremely disloyal."
Trump said prior to the decision, he was reading a lot of hostile press in newspapers and television preemptively excoriating any justices that move to overturn the health care reform law. He said he wondered at the time if anyone would be moved by that coverage, but "that's what happened with Justice Roberts."
"He voted for it and he did it, in my opinion, politically and he wanted to be loved by the establishment," Trump sad.
Trump praised Justice Anthony Kennedy's dissent. "He probably wrote the strongest opinion, as strong an opinion as you could write," Trump continued.
He was asked to weigh in on a fundraiser last Thursday that he held with former Massachusetts Gov. Mitt Romney and attacked the press again for suggesting that the fundraiser was likely to be cancelled.
"The press, much of it, is so dishonest it's really disgusting," said Trump.
He said he raised "many millions of dollars" towards Romney's presidential campaign and his fundraiser was energized by that day's Supreme Court ruling.
"All of the sudden, you have a candidate who is going to do everything he can – and will do it," said Trump. "I mean, he will end Obamacare if he gets elected. And you have all of these people energized, much more so than they were a week ago."
Watch the segment below via Fox News Channel:
> >Follow Noah Rothman (@Noah_C_Rothman) on Twitter
Have a tip we should know? tips@mediaite.com