Trump Keeps Hype Alive: Disappointed With GOP Presidential Candidates, Won't Rule Out Running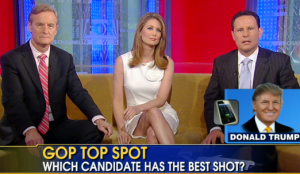 Donald Trump returned to making his weekly phone call to Fox & Friends and regarding his choice of another season of Celebrity Apprentice rather than pursuing the presidency, he admitted "who knows if I did the right thing?" Although, one thing he was sure about was that the current Republican presidential candidates are not impressive enough to beat Obama and he is very worried because "this country cannot afford to lose this election."
Trump knows he could have beat Obama and knows that Mike Huckabee could have, but as for everyone else:
"I am not seeing a lot out of the Republican candidates, and that's a very sad thing. . . . The ones that have announced – I just don't see it – I mean at this point in time, they're not going to be beating Obama."
Sensing a bit of regret in his voice, Brian Kilmeade inquired further why exactly Trump decided not to run. Trump suggested it wasn't the money from NBC and it wasn't the attacks he received, instead he said it was more just a recognition of how many other things he would have to give up in order to run for the highest office. Yet given his repeated dismissal of the current Republican presidential hopefuls, Kilmeade asked whether a late entry by Trump would be possible. Trump confidently stated "I would not rule it out" and even repeated himself.
When it comes to the issue of Trump's own candidacy, it's doubtful anyone in the media will ever take him seriously again, as even the Fox & Friends hosts were laughing at his bravado here. However, there is no denying that when Trump speaks, people do listen, and an endorsement from Trump for a different Republican candidate could actually end up being a highly coveted and sought after distinction, especially amongst Republican primary voters. With Trump's apparent eagerness to stay in the national conversation, despite not being a candidate himself, if a Republican candidate can learn what it takes to excite the Donald, then having Trump on their team as a strong advocate could definitely be a recipe for success.
Watch the clip from Fox News below:

Have a tip we should know? tips@mediaite.com