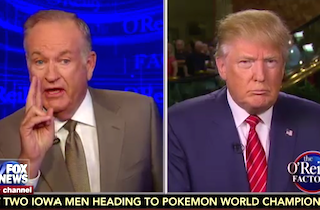 You may not have noticed, because he remains so ever-present in the culture, but Donald Trump has not appeared on Fox News in nearly two weeks. But now, CNN's Brian Stelter is reporting that the GOP frontrunner is set to return to the network on Tuesday night for an interview with Bill O'Reilly, followed by a Wednesday night appearance on Hannity. Notably, Trump has not come face-to-face — or phone-to-phone — with Megyn Kelly since their debate showdown.
Trump's last Fox appearance was also with O'Reilly back on August 24, the same night Kelly returned from a 10-day vacation.
That same night, Trump continued his Twitter assault on Kelly, saying she looked to be "off her game" and retweeting one follower who called her a "bimbo." At that point, Fox News Chairman and CEO Roger Ailes stepped in, calling on Trump to apologize to Kelly. Instead, Trump doubled down, saying Kelly is not a "quality journalist" and questioning her "professionalism." He hasn't been seen on Fox News since.
According to Stelter's source, Ailes put the word out to Fox hosts that Trump was "persona non grata" on the network at least for a little while. But another source on Trump's side claims that the candidate was invited to appear on Fox over the past two weeks but declined, citing scheduling conflicts.
While the relationship between Trump and Fox is mostly believed to be mutually beneficial, with last month's first GOP debate standing as the primary example, neither side has seemed to suffer much from some time apart. Kelly's first night back after vacation was her most-watched show of 2015 and she and O'Reilly have continued to dominate the cable news ratings in the two weeks since.
Meanwhile, Trump's lead in the polls just keeps growing, reaching a high point of 30% nationally in last week's Monmouth University survey. Expect numbers on both sides to surge even higher when they reunite tomorrow night.
UPDATE — Tues., Sept. 8, 2015, 5:50 p.m. ET: After Stelter tweeted this on Tuesday morning…
ICYMI: Donald Trump was "persona non grata" on Fox News for 2 weeks… but tonight he's back on http://t.co/Z5avzShabA

— Brian Stelter (@brianstelter) September 8, 2015
…a Fox rep, amused by the attribution in the story ("source close to Ailes") said Ailes would never use the term "persona non grata" and wouldn't issue an edict like that.
[Photo via screengrab]
— —
>> Follow Matt Wilstein (@TheMattWilstein) on Twitter
Have a tip we should know? tips@mediaite.com