Tucker Carlson Ratings Flat Amid Public Outcry Over Unearthed Radio Comments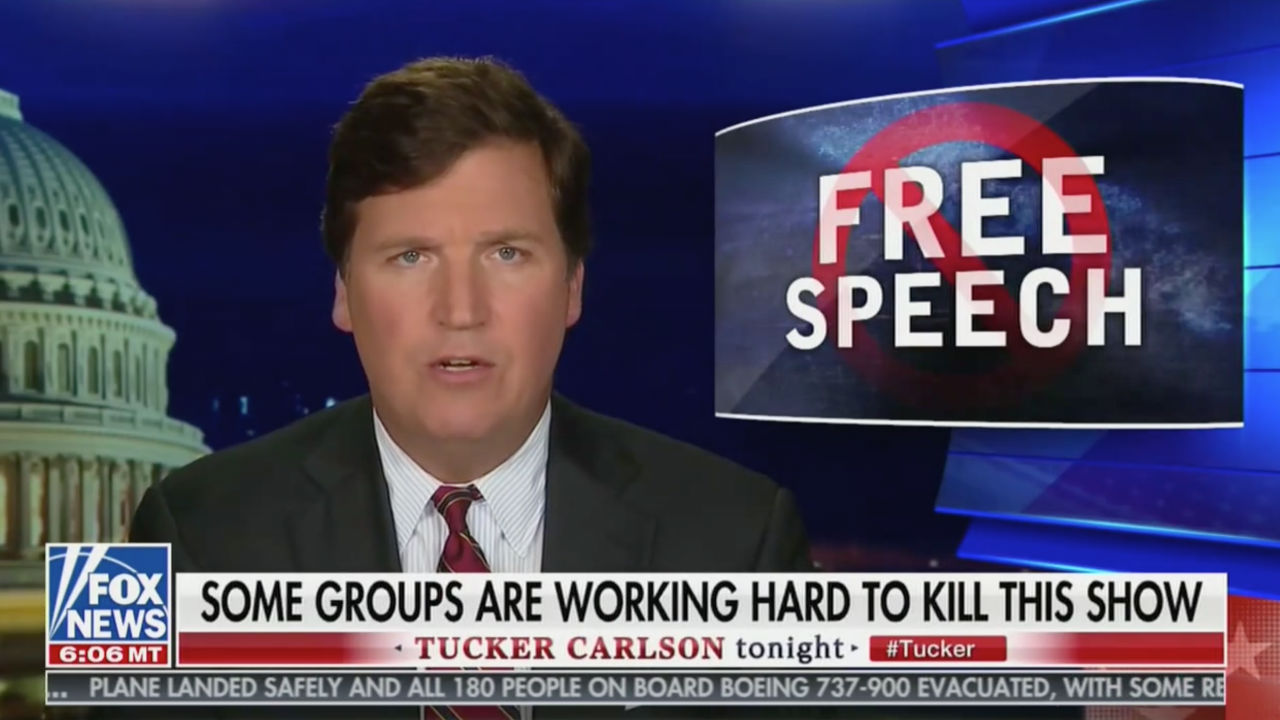 It appears that the controversy surrounding recently unearthed comments made by Fox News primetime host Tucker Carlson had next to no impact on the show's ratings.
According to Nielsen ratings released for Carlson's Monday night show, in which he unapologetically fired back at critics, earned a 2.895 million total viewers and 495,000 in the advertiser-coveted adults 25-54 demo. For reference, he got 2.8 million total viewers last Monday and 550,000 in demo. Tucker Carlson Tonight was up nearly 5% versus the same time last year and up 1% versus the same time last week.
Monday night's episode of Tucker Carlson Tonight was more highly anticipated, and therefore more widely watched, as viewers tuned in to see how the 8 p.m. host would respond to audio clips released by progressive media watchdog Media Matters. The segments came from old interviews Carlson offered grossly sexist and racist comments in a comedic interview with shock jock host Bubba the Love Sponge.
Chris Hayes decision to counter-program Carlson's reaction with revelations of more controversial comments unearthed by Media Matters appears to have paid off.  All in With Chris Hayes delivered an impressive 2.025 million total viewers ane 331 in demo.
In his statement issued Sunday night, Carlson was defiant:
"Media Matters caught me saying something naughty on a radio show more than a decade ago," Carlson said. "Rather than express the usual ritual contrition, how about this: I'm on television every weeknight live for an hour. If you want to know what I think, you can watch. Anyone who disagrees with my views is welcome to come on and explain why."
Monday evening Carlson opened with a similarly defiant tone, blasting a liberal "mob" of detractors eager to take him off the air.  Carlson ripped the "press release written by Democratic party operatives" and basically said he doesn't want to play their game:
"One of the only places left in the United States where independent thoughts are allowed is right here, the opinion hours on this network, just a few hours in a sea of television programming. It's not much, relatively speaking. For the left, it's unacceptable. They demand total conformity. Since the day we went on the air, they've been working hard to kill this show."
Carlson typically boasts among the highest ratings on cable news day in and day out and rarely has fewer viewers than 8 p.m. programming on CNN or MSNBC.  According to Nielsen Media Research, Tucker Carlson Tonight is the number one program at 8PM/ET, currently delivering an all-time with P2+ in 1Q'2019. The show averages nearly 3 million in total viewers and 525K in the demo, beating both MSNBC's All in with Chris Hayes and CNN's Anderson Cooper.
Carlson's successful ratings since replacing Bill O'Reilly in the 8 p.m. slot have become something of a talking point among those defending Carlson's comments. Fox News analyst Brit Hume claimed on Twitter, "What really drives the left and its agents nuts is that Tucker has succeeded in maintaining the Fox's 8 pm hour dominance since Bill O'Reilly's departure."
CNN's Joe Lockhart retorted that what "drives (him) crazy is that bigotry and misogyny sells so well. It's a stain on our country. Ratings don't trump values and I know you know that."
Higher ratings translates into more advertising revenue presuming brands still see Tucker Carlson Tonight as a viable place for commercial messaging. Media Matters, however, is actively trying to get brands that advertise on Carlson's program to boycott the show, high ratings or not.
Have a tip we should know? tips@mediaite.com