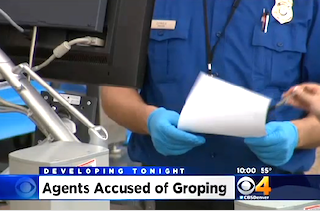 According to a new investigative report from CBS4, two TSA screeners have been fired from their jobs at Denver International Airport after one of them admitted to manipulating the system to allow one of them to grope the genitals of male passengers he found attractive. The alleged incidents occurred about a dozen times over the past year.
"He related that when a male he finds attractive comes to be screened by the scanning machine he will alert another TSA screener to indicate to the scanning computer that the party being screened is a female," a law enforcement report reads. "When the screener does this, the scanning machine will indicate an anomaly in the genital area and this allows (the male TSA screener) to conduct a pat-down search of that area."
The TSA first learned of the scheme last November, but did not take action until months later when a supervisor caught the employees in the act. When confronted, the female agent "admitted that she has done this for (the male TSA officer) at least 10 other times" and "knew that doing so would allow (the male TSA officer) to perform a pat down on a male passenger that (the male TSA screener) found attractive."
"These alleged acts are egregious and intolerable," a TSA spokesperson said in a statement. "TSA has removed the two officers from the agency. All allegations of misconduct are thoroughly investigated by the agency. And when substantiated, employees are held accountable."
Notably, CBS requested surveillance video of the known groping incident for its report but was denied.
Watch video below, via CBS Denver:
[h/t Gawker]
[Photo via screengrab]
— —
>> Follow Matt Wilstein (@TheMattWilstein) on Twitter
Have a tip we should know? tips@mediaite.com