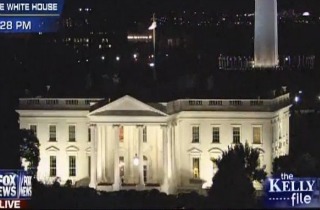 Military action against the Islamic terrorist network ISIS began late Monday night in the northern region of Syria, according to multiple news reports.
U.S.-led airstrikes in Syria started in the evening, Obama administration officials confirmed to Fox. The U.S. was joined in the airstrikes by five other Arab countries, Fox reported. The named by Fox were Saudi Arabia, United Arab Emirates, Bahrain, Jordan and Qatar.
No European allies are reported to be involved in this initial strike, according to Fox News.
Fox News correspondent Jennifer Griffin said that it is estimated that "upwards of 20 to 25" targets will be hit in the near future.
Watch via Fox News:
The Pentagon's statement confirming the military activity via Sam Stein of the Huffington Post:
official comment from the Pentagon pic.twitter.com/mRGMyK0JA7

— Sam Stein (@samsteinhp) September 23, 2014
Fox News Pentagon correspondent Justin Fishel repots that the intended targets of the airstrikes are "command/control centers, training camps and weapons depots."
US flying bombers fighters & drones & plan to hit 20 targets inside Syria including command/control centers, training camps & weapons depots

— Justin Fishel (@JustinFishelFNC) September 23, 2014
Rep. Peter King (R-NY) said on Fox News shortly after news broke of the airstrikes that it's "really important" for the U.S. to support President Barack Obama "until ISIS has been devastated."
NBC's Luke Russert reported that House Speaker John Boehner was in touch with Obama earlier in the evening regarding the airstrikes.
Per Boehner Spox @michael_steel "The Speaker spoke with the President by phone this evening." RE strikes in #Syria #ISIS

— Luke Russert (@LukeRussert) September 23, 2014
Fox News aired what it claimed was amateur footage of the initial U.S.-led military airstrikes against the Islamic terrorist group ISIS in Syria.
This story is developing.
[Photo via Fox News/screen grab]
— —
>> Follow Eddie Scarry (@eScarry) on Twitter
Have a tip we should know? tips@mediaite.com