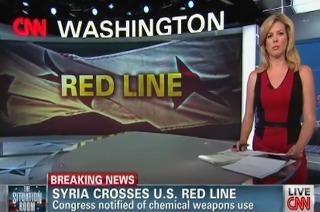 The White House announced on Thursday evening that it had confirmed that the Syrian government crossed the "red line" President Barack Obama set in August, 2012, when he insisted that the use of chemical weapons would result in a response from the West. The news prompted some to demand the White House back an overwhelming response to end the Syrian civil war rather than a minor escalation, like providing arms to the rebels, which would invite reciprocal moves by Syrian President Bashar al-Assad's Iranian and Russian allies.

"Congress has been notified that the United States will acknowledge Syria used chemical weapons multiple times," said CNN anchor Brianna Keilar.
RELATED: The Leadership Deficit: More Politicians Failing To Oppose Bad Policy Because It's Popular
CNN reporter Barbara Starr confirmed that Syria had used chemical weapons, like sarin nerve gas, "in small amounts" in civilian areas.
Sen. Saxby Chambliss (R-GA) told reporters on Thursday that Syria crossed the "red line" months ago. He backed whatever the next steps would be.
CNN then cut live to the Senate floor where Sen. John McCain (R-AZ) thanked the administration for acknowledging what the international community has been aware of for months. He pleaded with the White House to pursue an overwhelming force strategy which would dissuade Assad's international allies from attempting to escalate the conflict.
"Every bone in my body knows that simply providing weapon will not change the battlefield equation and we must change the battlefield equation, otherwise you are going to see a regional conflict the consequences of which we will be paying for a long, long time," McCain said.
Watch the clip below via CNN:
> >Follow Noah Rothman (@NoahCRothman) on Twitter
Have a tip we should know? [email protected]