Upcoming Marco Rubio Book Shows How Grandfather's 'Immigration Hell' Impacts Rubio's Take On Immigration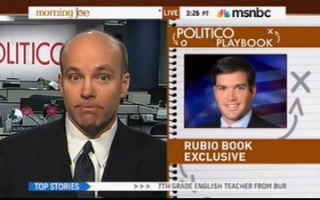 Politico's Mike Allen appeared on Morning Joe Wednesday morning, delivering news of Politico's look at Florida Sen. — and possible Mitt Romney VP pick — Marco Rubio, specifically his family's immigration history.
Rubio's family history previously made headlines when it was discovered that the Senator had misstated the date of his parents' exodus from Cuba to the U.S. As our own Frances Martel wrote back in October, critics the difference in date "turn[ed] the exodus into an emigration, and their trauma into fraud. Sen. Rubio responded in kind, writing in a column in Politico that it was "an insult to the sacrifices my parents made."
RELATED: Facts In Exile: Washington Post's Sen. Marco Rubio 'Exposé' Is Identity Politics At Its Worst
Allen explained why revelations in one of two upcoming books on Rubio might have an impact on the young Senator's take on the immigration debate:
We're going to have competing Marco Rubio books coming out on June 19: his own autobiography, An American Son. And what we have our hands on is a much more critical book by The Washington Post's Manuel Roig-Franzia coming out from Simon & Schuster, The Rise of Marco Rubio. And it describes the immigration hell that Marco Rubio's maternal grandfather, Pedro Victor Garcia, went through as he tried to return to the U.S. from Cuba.

Now, Senator Rubio's grandfather's story hasn't been an important part of him telling his American story. But what Manuel discovered, including finding some old recordings of an immigration hearing, was that when his — when the Senator's grandfather tried to come back after working briefly in Cuba, he didn't have a visa; he had a U.S. alien registration card. He had a Cuban passport. And he was pulled out of line, put in an immigration hearing, and ordered deported. He didn't go. In those days, the book explains, they didn't just shove you on the plane. And he hung around Miami, and eventually apparently got refugee status. But the point the book makes is this illuminates the struggles of people from Central America, Mexico, who try to get in the U.S, get caught up in a bureaucratic hell like this, and it puts a new light on Marco Rubio's own immigration policies as he tries to go out there as a more moderate torch bearer on that issue for the Republican party.
But are voters, asked host Willie Geist, really going to "care about an immigration hearing 50 years ago?" Allen noted that, as Roig-Frazia sees it, the focus won't necessarily be on the details on the hearing, but rather on Rubio's "shifting story and whether Marco Rubio from the beginning has told the full story," including when it comes to his religious background, which is something the book goes into as well.
RELATED: Republicans: Don't Ruin Marco Rubio's Career By Associating Him With Mitt Romney
Geist turned things over to GOP strategist and former McCain adviser Steve Schmidt, who said that, when it comes to a potential VP pick for Romney, he will likely select a candidate that both the GOP and the media believe is prepared to be president. "I think that's the lesson from 2008," he added.
So far, Rob Portman (who is "at the top of the list" because he's not "controversial," as Allen put it) and Jeb Bush's names have been consistently discussed as potential VP picks, along with Rubio's.
Watch, via MSNBC:
Have a tip we should know? tips@mediaite.com