Vicki Lawrence Of Mama's Family Is Pissed Off At Ted Williams For Some Reason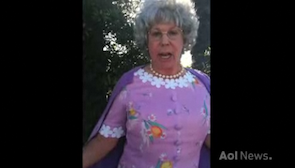 There's a very thin line between heartwarming and annoying so, while some people look at the tale of "golden voiced" Ted Williams and see an inspirational story of overcoming adversity while others just wonder "What's so great about him?" Add to that second group 61-year-old actress Vicki Lawrence. Lawrence recently dressed up as her most famous character, Mama Thelma Harper from Mama's Family, and filmed a video (seemingly on an iPhone) dissing the recently homeless Williams.
Sure. Why not.
The video features straight-shootin' Mama complaining about Kraft Services using a homeless guy as their spokesman, all the while standing in bushes by the side of the road and holding a cardboard sign because "that is the only way for a person to become famous in this country these days."
Now, you're probably wondering why the star of a Carol Burnett Show spin off is going out of their way to make fun of a human interest story like Williams. Well, she explained her thinking over at AOL News:
"'Mama gets a little carried away when she speaks, but it bothers me when people like Kim Kardashian and Ted Williams become celebrities for doing absolutely f–king nothing,' Lawrence told AOL News, while stepping out of character.

'He's everywhere now. Matt Lauer and Meredith Viera were giving him a hug on The Today Show, and I thought, "I hope he took a bath."'
Huh. While there's no one who hates celebrity trash culture more than me, I'm not sure I can get 100% behind Lawrence on this one. Really, it's kind of a stretch to compare a talentless millionaire (billionaire? who cares) like Kim Kardashian to Ted Williams. Besides, she spends time in that interview and in the video complaining about how Williams is constantly on TV. Has Lawrence looked at her syndication recently? No one from the cast of Mama's Family is allowed to ever complain about someone else being on TV constantly.
Check out the video from AOL News below:
(h/t Ryan Williams)
Have a tip we should know? tips@mediaite.com