Wallace Grills Huckabee: Would You Have Ignored SCOTUS on Desegregation, Too?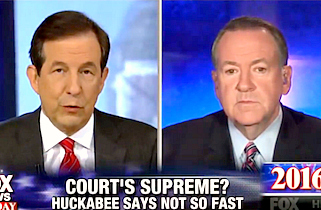 For the second Sabbath in a row, Fox News Sunday host Chris Wallace quizzed a 2016 GOP hopeful about the implications Marbury v Madison, which established judicial review a couple years before Twitter was invented.
This time around it was Mike Huckabee's turn to explain why he would be allowed as president to not obey a Supreme Court ruling on same-sex marriage (or anything else). Huckabee has said he would not follow a high court ruling legalizing same-sex marriage, a matter the Court is expected to decide on imminently.
"Judicial review is exactly what we have lived under; we have not lived under judicial supremacy," Huckabee said. "The Supreme Court can't make a law; the legislature has to make it, the executive has to sign it and enforce it. The notion that the Supreme Court comes up with a ruling and that automatically subjects the two other branches to following it defies everything there is to equal branches of government."
Wallace asked him about other situations, such as a former Arkansas governor's unwillingness to enforce SCOTUS' ruling on desegregation, or turning over required documents to Congress, a la Nixon. Huckabee seemed to say it the first was fine because the president, in that case Eisenhower, agreed with the ruling, which begged the question; in the second he said Congress can impeach an executive if he refuses to obey. So, all in all, adult ways to govern.
Watch the clip below, via Fox News:
[Image via screengrab]
——
>> Follow Evan McMurry (@evanmcmurry) on Twitter
Have a tip we should know? tips@mediaite.com