California Tech Summit Panel Bores Prince William And Kate Middleton To Death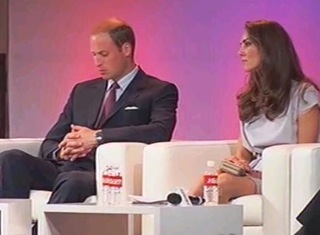 Sometimes we plebes underestimate just how difficult the royal duties of the crown princes of England can really be. Sure, some of us have to laboriously toil at our day jobs– the lucky ones that have jobs– but how many times does our job require following up a long flight with and "all-day summit aims to address how investors are propelling technological innovation that affects the entertainment industry?" That's what the Duke and Duchess of Cambridge were up to in Los Angeles today, having their ears talked off about the value of social media.
Prince William and Duchess Kate Middleton landed in California this evening and were immediately whisked off to Variety's Venture Capital and New Media Summit. The UK's newest royal couple was at the summit to promote the work of digital entrepreneurs at Tech City, an area of East London where many of the nation's tech companies have made a home for themselves. The discussion, which the couple attended for about fifteen minutes, included thoughts on what makes a successful tech company, the future of social media, and the interactions between Facebook and Google– a fascinating conversation for those that indulge in the development of the technological world, but it didn't seem to be quite the royal couple's cup of tea.
For one, they never speak or appear to have any mode of doing so (like, say, a microphone), though they sit there intently. They also seem rather disconnected from (read: bored by) the conversation, with Prince William keeping his head bowed fairly low throughout most of the talk. To cap it off, when the moderator asks for "final thoughts" from the panelists, one offers his opinion of "autocratic leadership": "we have a future king here, and I don't want anymore merciful beheadings before dawn."
Quite the warm welcome for the Duke and Duchess of Cambridge.
Watch the talk (and their reactions) below:

Have a tip we should know? tips@mediaite.com