Watch Jimmy Kimmel's USCG Shutdown Video: 'Can We Please Get Back in Our F**ing Boats, Now?'
On Jimmy Kimmel Live! on Thursday night, the host talked about the government shutdown in his opening monologue, at one point specifically regarding the U.S. Coast Guard.
Host Jimmy Kimmel began by showing a guide that apparently is designed to help members of the Coast Guard pick up extra money.
"One group of workers impacted by the shutdown is the Coast Guard," said Kimmel. "Someone in the coast guard support system put out a guide with a list of suggestions for alternate ways their workers can make ends meet during the shutdown, this is for real. It's called managing your finances during a furlough."
He showed the sheet of suggestions, below.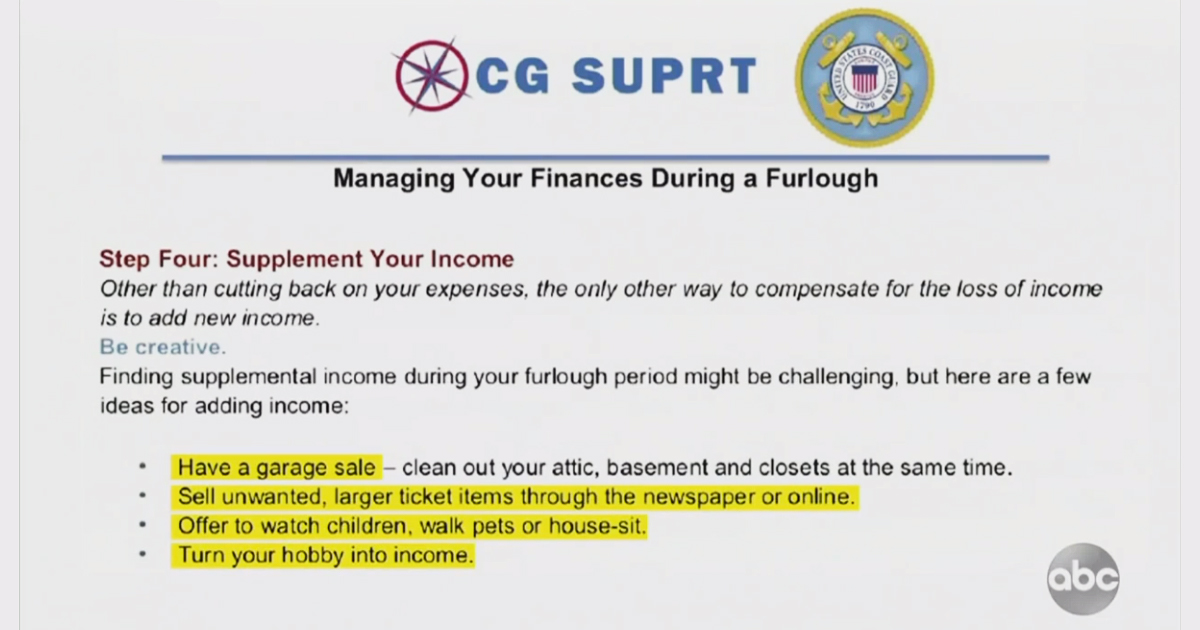 "Why not sell a kidney while you're at it," he joked.
Then he moved on to the parody video.
"Not only is the shutdown affecting current members of the Coast Guard, it's affecting recruitment to the Coast Guard, too."
The narrator reads: "At the U.S. Coast Guard, we're working hard, protecting our ports, defending our borders, driving our Ubers, babysitting, walking dogs, delivering Postmates, and selling pot."
It closes with the slogan, "The Coast Guard. Can we please get back in our [bleep]ing boats now?"
Watch the clip above, courtesy of ABC.
[Featured image via screengrab]
—
Follow Caleb Howe (@CalebHowe) on Twitter
Have a tip we should know? tips@mediaite.com