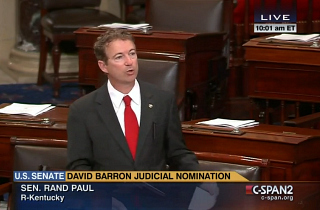 On Wednesday morning, Sen. Rand Paul (R-KY) began his filibuster of President Barack Obama's U.S. Court of Appeals nominee David Barron. The First Circuit nominee has drawn the libertarian-leaning senator's ire for the legal opinions Barron wrote in support of drone strikes against U.S. citizens.
While the filibuster will technically be for show only — recent rule changes make it easier for nominees to advance with just a majority vote rather than the old 60 vote requirement. In other words, Paul's filibuster will likely not effect the odds of Barron filling the vacant First Circuit seat.
"I rise today to oppose the nomination of anyone who would argue that the President has the power to kill American citizens not involved in combat," Paul said to open his speech. "I rise today to say that there is no legal precedent for killing American citizens not directly involved in combat and that any nominee who rubber stamps and grants such power to a President is not worthy of being placed one step away from the Supreme Court."
-RELATED: Team Obama's Pathetic Justification For Killing 16-Year-Old American Boy
Barron has worked as Acting Assistant Attorney General of the Office of Legal Counsel in the Justice Department. Senator Paul's opposition to the nominee stems from reports that Barron wrote the legal opinions justifiying the 2011 extrajudicial killing of American citizen Anwar al-Awlaki. Those legal opinions inspired the senator to stand for a 13-hour filibuster last March in opposition to Obama's appointment of John Brennan to direct the CIA.
Watch below, via C-SPAN2:
— —
>> Follow Andrew Kirell (@AndrewKirell) on Twitter
Have a tip we should know? [email protected]