Watch Stephen Colbert Lose Control Of Interview As Guest Goes On About 'Cave Porn'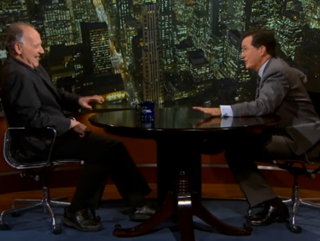 "I don't usually have guests this deep," Stephen Colbert admitted halfway through last night's interview with German film legend Werner Herzog. Herzog, known for, among other things, eating his own shoe and trying to firebomb an actor's house, provided Colbert with one of the most bizarre and unmanageable interviews in the history of the Report, calling thousands-old cave paintings "beyond than Baywatch" and philosophizing about radioactive albino crocodiles.
Herzog was on the program to promote Cave of Forgotten Dreams, a documentary about the oldest paintings known to man, found in a cave in France. Colbert made several attempts to get him to describe the film in comical terms, and Herzog delivered, calling the breasts of the women in the caves "way beyond Baywatch" and praising the painters for "inventing God, but it took God some time to grow up and create the world." Okay then.
The interview somehow got even wackier when Colbert confronted him about the fact that he tends to fictionalize things in his documentaries. "Are you making this stuff up?" Colbert asked, adding jokingly, "because I do that every night. I've made up some crazy stuff and I don't care if they know what's what." That ended up being the final question Colbert could squeeze in, as Herzog took the question as an opportunity to give an extended monologue on why radioactive albino crocodiles were imperative for his movie on cave paintings and why facts are useless– "If [the world] were fact-based, the book of books in literature would be the Manhattan phone directory. Four million entries, everything correct." He ended his rant against facts with a defiant "I am not that kind of filmmaker," to which Colbert found only one answer: "I want to party with you, cowboy."
The segment via Comedy Central below:

Have a tip we should know? tips@mediaite.com