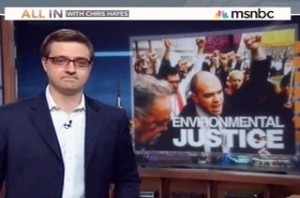 With nearly three months having elapsed since MSNBC host Chris Hayes took over at the helm of his network's 8 p.m. block — previously occupied by Ed Schultz — the show has regularly delivered disappointing ratings. His innovative weekend program Up often earning the applause of opinion leaders, Hayes was thought to be bringing his refreshing style to what had become the stale routine across the cable news spectrum in prime time. But in the weeks that followed his debut, MSNBC has been hemorrhaging viewers. They regularly finish third or even fourth behind their competition. What can Hayes do to turn his ship around? He must begin by recognizing that a cable news studio is not a classroom and that he has a duty to entertain as well as to inform. If he fails to adapt to the demands of a prime time audience, Hayes' program will prove to be a short-lived experiment.

On the day that MSNBC announced Hayes would become the network's new prime time anchor, I warned conservatives to take this development seriously. Hayes and Rachel Maddow know how to advance an agenda. This pair's fact-based argumentation, I submitted, would trump the bombast that often suffices for a line of reasoning on the right. Every night, Hayes and Maddow would be arming their viewers with information and reasoning designed to advance liberalism. This has proven true. What I did not anticipate was the extent to which Hayes would drive viewers away with his consistent snubbing of what is driving the news cycle on any given day.
RELATED: Conservatives Should Worry About The Addition Of Chris Hayes To MSNBC's Prime Time Lineup
There are countless examples of this phenomenon, but let's begin with the most recent. On May 22, Hayes spent two segments examining the damage Monday's historic tornado did to the town of Moore, Oklahoma. He spent another segment outlining the details of an immigration reform bill which cleared its first hurdle after it was approved in committee. Hayes spent the final half of his show summarizing Apple CEO Tim Cook's testimony before Congress and investigating whether Congressional Republicans would demand offsetting cuts in the budget to compensate for Oklahoma's relief funding.
Notably missing from last night's broadcast was the breaking news out of London. Just hours before Hayes program, two men savagely killed and dismembered a British serviceman and wounded two others in the middle of a London street in broad daylight. That story was made all the more chilling and tabloid by one assailant's willingness to deliver a clear-eyed, anti-Western sermon into a nearby camera while still soaked in the blood of his victims.
While Hayes decided to pass on that story, Maddow did not. After noting the attackers' stated Islamist motivation for the attack, Maddow sarcastically noted, "Nothing like getting a lecture on not wanting to be called an extremist on a man with a meat cleaver."
"It was a spectacle designed for maximum shock and for maximum political resonance – that's terrorism," Maddow opined.
This is indicative of a pattern. Hayes often touches begrudgingly, if at all, on the breaking news of the day while relying primarily on in-depth segments which shed light on the social injustice of the moment.
For example, on May 16, the day the White House released a 100-page interagency email exchange chronicling how the post-Benghazi talking points were formed, Hayes spent the majority of his program focusing on sexual assaults in the military and a supremely obscure story about a man imprisoned for disrupting a federal land auction to oil and gas companies.
The impression that Hayes projects is that he resents having to cover the news that interests the masses. He seems to view the news cycle itself an impediment to his advocacy. While Maddow can frame the day's news in a way that both informs and entertains her audience, Hayes rejects that the day's news should even be news.
To say the ratings for Hayes' program are abysmal would be an insult to abysses. On Friday, May 17, Hayes lost to CNN and Fox in the key demographic and in overall viewers and tied in the demo with HLN's Nancy Grace. Hayes On Tuesday, May 21, Fox News Channel's Bill O'Reilly had ten times the total viewership of Hayes' program. These prime time ratings are simply unsustainable for any network. Less than a year ago, in the heat of an election cycle, Schultz could regularly boast of beating CNN's Anderson Cooper in both the demo and in total viewers. Hayes predecessor would often even beat Maddow in total viewership.
Hayes' problem is not just that his show rejects the drama and contention of heated debates between pundits with opposing viewpoints – a cable news staple. It is that his professorial effort to inform his audience lacks the requisite entertainment value to keep them watching. This is a symptom of buying into a fantasy, propagated by television dramas like HBO's The Newsroom, which suggests that the trite entertainment value of cable news undermines its purpose.
This ruinous Siren appears to have ensnared Hayes, flattering his ego and obscuring from his view the imprudence of his course. This experiment in cerebral cable news programming will be a failure if Hayes cannot deliver in the ratings. MSNBC cannot survive this bleeding in perpetuity.
Hayes can be popular, maintain his credibility, and deliver on his program's mission statement – the advancement of progressive causes and elevation of underreported news stories. He will, however, have to abandon his prideful ideal of a shiny object-free news cycle. Hayes will not be the person to reinvent the wheel, but he can go far if he accepts the model that successful cable news programs have embraced in the past.
> >Follow Noah Rothman (@NoahCRothman) on Twitter
Have a tip we should know? tips@mediaite.com