Wilmore: Fox News 'Absolutely' Made It Easier to Find Comedy in Charleston Shooting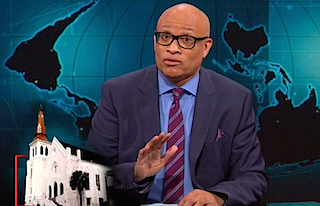 To mark his 100th episode of The Nightly Show this week, Larry Wilmore returned to NPR's Fresh Air. And one of the first things host Terry Gross wanted to ask him about was his reaction to the mass shooting at the Emanuel AME Church in Charleston, South Carolina earlier this summer.
After playing a clip from Wilmore's first segment on the shooting, in which he declared that watching Fox News play down the racial motivations of the shooter made his "fucking head explode," Gross asked him to describe how he and his writers decided what to say about the massacre.
"That was a very difficult day," Wilmore said, pointing out that Jon Stewart had declined to make any jokes at all about the shooting on that first day. "I think I was so outraged by the coverage of it as a 'faith' incident, because I take those things seriously," he added. "If someone is attacking someone because of faith, that is a serious issue, but this was clearly because of race."
When Gross then asked Wilmore if Fox News "made it easier" for him to "find where the joke was" in such a tragic story, he said, "Yes, in that sense, absolutely."
"It is the biggest irony or ironies I think that I have ever faced in my entire career, Terry, I'll be honest with you," Wilmore added, "that I would be mining this type of territory on a daily basis and getting laughs out of it."
Listen to audio below, via NPR:
And watch Wilmore's full Nightly Show segment on Charleston below, via Comedy Central:
[Photo via screengrab]
— —
>> Follow Matt Wilstein (@TheMattWilstein) on Twitter
Have a tip we should know? tips@mediaite.com