With New Show & More Exposure, Jesse Watters' Ascent at Fox as Unorthodox as it is Impressive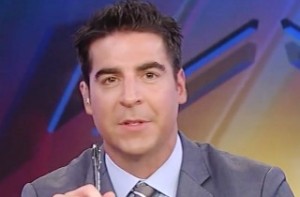 Fox's Jesse Watters is becoming an increasingly visible player in the world of cable news, especially since earning his own weekend program bearing his name, Watters World.
But it's Watters road to relative stardom in this arena that has always intrigued me. Because here's how the road to national broadcast media notoriety is usually paved:
– Intern in college at what station or network is near home
– Right out of college, (hopefully) find (insanely low-paying work) at that same station or network as a field reporter forced that includes not only reporting on stories, but shooting and post-editing them as well (personal note: Carrying your own camera and tripod is not fun, nor is speed-editing a package with a deadline pending). Hours invariably stuck with any social life stripped from the itinerary thanks to working overnights, weekends or overnight on weekends.
– If the local station isn't hiring, it's time to pack the bags and head to a small city where work may be available. North Dakota, Montana, Mississippi, Maine… doesn't matter. Work is work and experience is experience.
– And if you're good enough and more than a little lucky, the process from there – over months, years or even decades — moves from city to city, hopefully larger ones, until the apex that is New York is reached. Like those who are talented athletes in high school and college, very few are selected to the pros… or in this case, CBS, NBC, ABC, Fox, CNN or MSNBC.
And that's what makes Watters road one of the more unorthodox ones you'll ever see in this business. At Trinity College, he didn't study broadcast journalism or even communications in any capacity, instead he graduatedas a history major. The plan – as Watters told me during an interview I hosted this week on Sirius XM's Insight channel – was to go to Wall Street and make his fortune there. But there was one small problem:
"Yeah, I thought I was going to make a lot of money because all of my friends in college were going to go to Wall Street. And I tried it and failed miserably because I couldn't do basic arithmetic," joked Watters.
"Apparently if you're going to handle millions of dollars of other people's money, you have to be able to do basic arithmetic," adding, "If you look at Wall Street right now, those guys don't look like they took business courses either."
So after that pursuit quickly died, the Philadelphia-born Watters went to up-and-coming Fox News in 2002 (the network had just overtaken CNN in the ratings race), where he took on the role of production assistant for The O'Reilly Factor one year later. Note: PA is arguably the lowest position on the broadcast news totem pole and pays quite low regardless of network as a result, particularly when it comes to surviving in New York where a studio apartment runs, for example, for $2600.00 per month. Even apartments that are only 78-square feet (not a typo, 78) were going for $800.00 per month per this NBC News report. Welcome to the Big Apple…
But prospects suddenly changed for Watters in 2004 when O'Reilly show decided to send him down to Alabama to question a judge who had just ruled to basically let a sex offender off the hook.
"Alright Watters," Watters recalls O'Reilly instructing him upon pitching the story in a pre-show meeting, "You're going to go down to Alabama and confront the judge. I've never been south of the Mason-Dixon line. I said, 'Where's Alabama?'"
Watters explained that he and his shooter (cameraman) thought they found the judge in question leaving his office and even followed his car through the backwoods of Alabama before finally arriving at the courthouse. Watters then asked the first question of his television career:
"Judge Bush, Judge Bush, how could you do this?" Watters asked, to which the "Judge" replied, 'What? I'm not Judge Bush. But I'm a State Trooper and I'll tell him you're looking for him.' "
"So first guy I ever ambushed," Watters says, chuckling, "I ambush the wrong guy."
Inside the courtroom, Watters eventually got a reaction from the judge, whom he described as "flustered" upon being peppered with questions from the then-23-year-old, even to the point of eventually taking no more questions and scurrying back to his chambers. O'Reilly later watches the report – which made news elsewhere outside of Fox News — and issues his report card:
"Watters. Not a bad job down there in Alabama. But your voice is too high-pitched for television. Me? I never had that problem. You might need a speech coach."
Regarding of voice pitch, O'Reilly stuck with Watters anyway, which turned out to be a good decision as suddenly the niche enterprise that would eventually be known as Watters World grew. Periodic Man on the Street and ambush interviews became a regular occurrence on the Factor.
And look, it should be noted that man on the street interviews are nothing new. Late-night television (most notably now with Jimmy Kimmel) and radio (The Howard Stern Show) showcase the stupidity/cluelessness of average Americans on a regular basis. But Watters – along with producer Rob Monaco — have created a very unique offering in the way these packages are presented… all thanks to the use of movie and television clips to serve as reactions to answers that also allow for easy transitions and helps Watters avoid casting judgment after each ridiculous answer. An example of what's being described can be seen here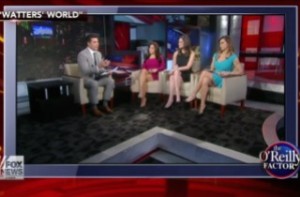 .
Hundreds of reports later, the Watters brand has expanded beyond weeknights at 8:00 PM to fill-in work as a co-host of the popular panel program, The Five. He's also co-hosted on Outnumbered and even has filled in for O'Reilly himself. Management knew what it had and in effort to provide more original programming on weekends geared toward younger audiences (See: The Greg Gutfeld Show), awarded Watters with the aforementioned Watters World program – a mix of Man on the Street packages, one-on-one interviews and roundtable (OK, chairs) discussion on primarily big political stories of the day — in November of 2015. Since its launch, the show is up 99 percent in the key 25-54 demo (229k) and averages 1.3 million total viewers on a Saturday night.
Remember, this is all on a network where — because of its success and talent loyalty to Roger Ailes — new shows aren't exactly handed out so easily. Lack of talent turnover simply doesn't allow for it.
Past interviews on the weekend Watters World have included a sit-down with Donald Trump, where the GOP front runner revealed to Watters one confession that really should have generated more press: He didn't get on his knee while proposing to current wife Melania. Apparently this is something Trump shares in common with Watters, who proposed to his wife, Noelle, while standing up at a bar. You can hear the rest of this sordid tale he shared with me on my Monday show here:
This Saturday's Watters World (April 23rd, 8:00 and 11:00 PM EST) includes an interview with Willie Robertson of Duck Dynasty, who is also now a Fox News contributor. O'Reilly will also be a guest in a student-interviews-teacher scenario. The host also travels to the campuses of UMass and Harvard in what appears to be a fascinating competition to determine if Ivy League students really are more intelligent than those who attend state schools.
Watters' story is not one normally seen out of central casting: Kid goes to college. Studies history. Has a plan to work on Wall Street, goes into television instead to work behind the scenes for little money.
Gets shipped off to Alabama. Ambushes a judge named Bush. Stirs the pot. Gains trust of the boss. Earns more airtime.
And before he's even close to 40, now owns a substantial role on the #1 program on cable news. Said role expands the brand to other programs and eventually results in getting his own.
Jesse Watters got to where he is in an incredibly competitive industry by traveling the road least traveled. most unlikely way. But as they say, luck is when preparation meets opportunity.
In an industry full of cookie-cutters and dime-a-dozens, he somehow created a niche at Fox News. He has succeeded at something almost nobody does in the cable news business:
Comedy that actually works.
>>Follow Joe Concha on Twitter @JoeConchaTV
Have a tip we should know? tips@mediaite.com