Wolf Blitzer Baffled by Bernie Sanders' Free College Plan: But What About Hillary?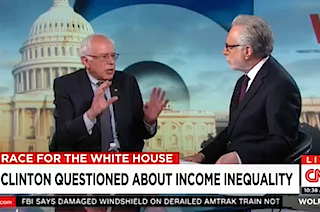 As the only other candidate running for president as a Democrat in 2016, Sen. Bernie Sanders (I-VT) cannot make it through an interview without being grilled about Hillary Clinton. On Tuesday, Sanders visited CNN to discuss his plan to make public universities tuition-free, but Wolf Blitzer mostly seemed interested in getting his reaction to Clinton's first Q&A session with the press in more than four weeks.
Asked by Blitzer to react to Clinton's comments on her own wealth, the candidate said that income inequality is "an issue I've been talking about many years and what we need to do is be specific about what we're going to do." When he said that the vast majority of new income is going to the top one-tenth of the 1%, Blitzer wanted to know if that was a jab at the Clintons.
RELATED: Sanders: Will Media Force Me to Attack Hillary Before Listening to My Ideas?
"I don't know," Sanders said, continually trying to steer the conversation away from Hillary Clinton specifically and towards the "more serious problem" of how to fix the income gap in this country. He then introduced his new legislation that would make all public colleges and universities tuition-free. What followed was this exchange between the two men (edited and simplified for clarity):
Blitzer: "Where's the money going to come from?" Blitzer wondered.

Sanders: "A tax on Wall Street speculation."

Blitzer: "What does that mean, a tax on Wall Street speculation?"

Sanders: "What we're going to impose is what exists in dozens of countries around the world, a very modest tax on the transference of large amounts of stock."

Blitzer: "Is that going to pay for tuition?"

Sanders: "More than that… The estimate is it could bring in as much as $300 billion a year."

Blitzer: "Do you think Republicans are going to go along with this?"

Sanders: "Of course they're not."

Blitzer: "If they're not going to go along with it, then it's not going to become the law."

Sanders: "I don't think it's going to be passed tomorrow… The American people will go along with it."

Blitzer: "Is Hillary Clinton committed to this cause as are you?"

Sanders: "Wolf, you have to ask Hillary. I don't work for her. I don't know."

Blitzer: "So you want to raise taxes?"

Sanders: "On the very wealthiest in this country? Absolutely."
It is notable that the entire time Sanders discussed his college plan, the chyron "Clinton Questioned About Income Inequality" remained on the screen.
This is what happens when a candidate attempts to talk about policy — and not the political horse race — on cable news.
Watch video below, via CNN:
[h/t Raw Story]
[Photo via screengrab]
— —
>> Follow Matt Wilstein (@TheMattWilstein) on Twitter
Have a tip we should know? tips@mediaite.com