'Absolutely Thermonuclear Midterm': Here's What Cable News Pundits Are Saying About the Election, 2 Weeks Out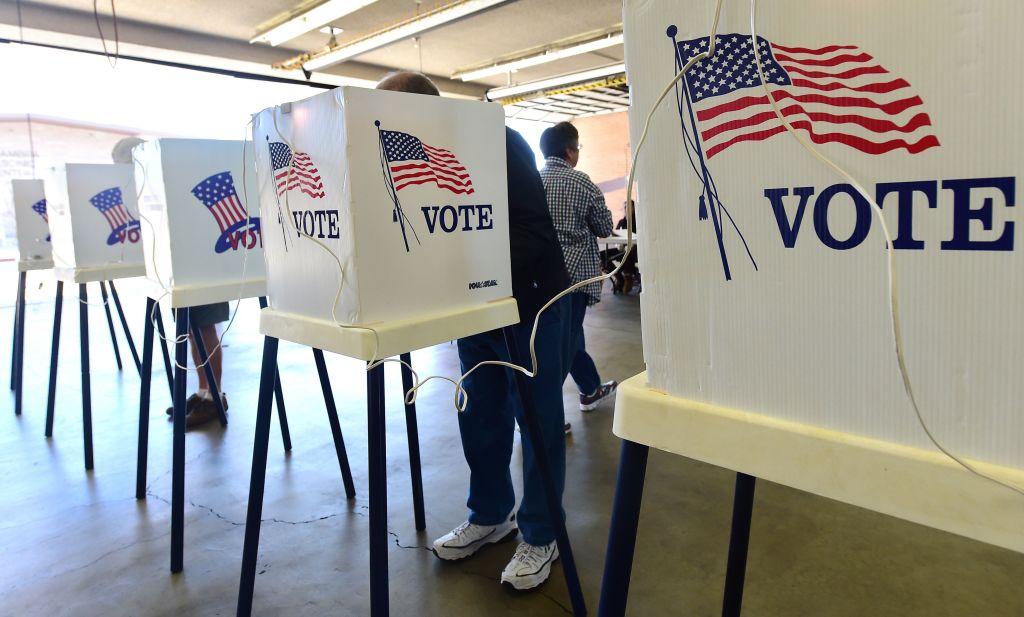 Welcome back to Mediaite's "Election Roundup" — a weekly compilation of the latest polling data and analysis on cable news regarding the upcoming 2018 Midterm Elections.
OUTLOOK: With two weeks to go, Republicans are becoming increasingly confident they will be able to maintain control of the Senate as red-state Democrats run into trouble closing races necessary to flip the chamber; former president Barack Obama and ex-VP Joe Biden hit the campaign trail to stump for Democrats; GOP relishes stronger approval ratings for President Donald Trump and a rapidly shrinking voter enthusiasm gap.
The Senate map still favors Republicans: Real Clear Politics predicts a gain of 2 GOP seats while FiveThirtyEight forecasts the GOP will maintain control with 51 seats.
Last Thursday, NBC News national political correspondent Steve Kornacki spotlighted a key Senate race in Tennessee that may have seemed feasible a few weeks ago as a pickup for Democrats, but has since started to slip out of their reach.
Kornacki cited two recent polls — one that put Republican Rep. Marsha Blackburn up by three points, and another that had Democrat Phil Bredesen in the lead by one point.
"The range we've seen in Tennessee is basically now, this month, anywhere from that one poll with Bredesen up one, to Blackburn up 14 at the other extreme end," Kornacki said. "Blackburn does seem to have moved ahead out there — probably somewhere in the mid-single digits when you average everything together."
Real Clear Politics currently gives Blackburn a 6.5-point edge over Bredesen.
Kornacki noted that Republicans are in a pretty good shape to secure control of the Senate: the GOP could conceivably lose Senate seats in Arizona and Nevada and still maintain a majority. The only way Kornacki saw Democrats as having a chance would be if they were able to hold on and keep their seats in Missouri, Florida, Montana, Indiana and West Virginia in addition to flipping at least three of the following states: Arizona, Nevada, Texas, North Dakota, Tennessee.
Politico's James Arkin reports: "With the majority looking improbable, party strategists have started to cast their eyes further ahead, looking at the 2018 Senate battlefield as a margin game. Just how big the Republican majority will be — and just how many red-state Democrats can win reelection in two weeks — could decide whether the GOP will cement Senate control for years or whether Democrats have the opportunity to wrest back the majority in 2020, when a more favorable array of states have Senate elections."
As November 6th nears, President Trump has been consistently holding rallies and, last week, completed a western swing of three Senate battleground states — making his way to Missoula, Montana on behalf of Republican Matt Rosendale; Mesa, Arizona to support Rep. Martha McSally and Elco, Nevada for Sen. Dean Heller. The president is scheduled to travel to Wisconsin, North Carolina and Illinois this week after holding a rally in Houston for Sen. Ted Cruz on Monday evening.
Meanwhile, Obama appeared in Nevada on Monday with Democratic Senate candidate Rep. Jacky Rosen — whom Biden rallied for over the weekend — and will be in Milwaukee on Friday to help out local and statewide Democrats running for office in Wisconsin.
With this year's midterm elections expected to be a referendum on Trump's first two years as president, new polling has some Democrats worried. A recent NBC News/Wall Street Journal poll has Trump with his highest job approval rating since taking office — 47 percent approve to 49 percent disapprove.
The same poll shows skyrocketing enthusiasm coming from both parties. 72 percent of registered Democrat voters have a "high interest" in the midterms compared to 47 percent in 2014. For Republicans, the number is 68 percent compared to 59 percent four years ago.
"Democrats are voting like Republicans," Fox News politics editor Chris Stirewalt said Monday morning on America's Newsroom. "Normally, Republicans enjoy this very considerable advantage in the midterms, which is that any given Republican is more likely to vote than any given Democrat… Rich white folks go to the polls and often times there's a problem for poor folks, especially who live in big cities, that don't have the same type of turnout — well, [this year] they're turning out… we have this absolutely thermonuclear midterm going down."
Fox News anchor Bill Hemmer honed in on the fact that according to the NBC/WSJ poll, the parties are tied amongst suburban resident with 44 percent favoring GOP control and 45 percent favoring a Democratic Congress.
"These numbers should be very sobering," Stirewalt added. "Republicans and Democrats need to come to this election with clearer eyes. When you take out the bright red districts and you take out the bright blue districts and you look at these swing places… guess where the approval numbers are there? The generic ballots in those districts are even."
Mary Anne Marsh, former senior adviser to John Kerry, had a different take on the uptick in voter interest.
"In every category of every poll you just cited — including the Fox News poll last week, the WSJ poll yesterday — Democrats have every single advantage… the bigger the turnout, the better for Democrats," she said. "Yes, it is close in some places, but the more people vote, the better I like [Democrats'] odds."
CNN senior political writer and analyst Harry Enten predicts Democrats will lose the Senate 52-48, but win control of the House with 226 seats.
"Democratic hopes to take back the Senate remain lousy," he said. "A big reason why is that they cannot put away the races they need to win even to be in a position to score some upsets."
Enten points out that Democrats have not been gaining any ground in certain key Senate battleground races, and in fact, they may be losing ground.
After leading in seven consecutive nonpartisan polls last month, Rep. Kyrsten Sinema (D-AZ) has only led in two of the past four. Incumbent Sen. Bill Nelson (D-FL) has trailed in the latest two polls despite holding leads in five consecutive polls in September. Sen. Claire McCaskill (D-MO), who had been consistently ahead in polling all summer, has only led in a single poll since early September.
"Democrats still have a path to the senate majority," Enten said. "Our forecast still gives them an outside shot of controlling 53 seats. That, though, is improbable."
While speaking to John Berman and Alisyn Camerota on Monday, Enten also dove into the Florida gubernatorial battle between GOP Rep. Ron DeSantis and Democrat Andrew Gillum.
Berman pointed out that the governor's race could very well have an impact on the contentious Senate race between Nelson and Republican challenger Rick Scott.
"[Nelson] may benefit from Andrew Gillum," Berman said. "If Andrew Gillum turns out younger voters, which is always a problem for Democrats across the country, if he turns them out at even a fraction of the rate that he showed there, it will help Bill Nelson as well."
CNN's latest poll has Nelson leading Scott 50 percent to 45 percent. Meanwhile, Gillum enjoys a double-digit lead over DeSantis and is poised to become the third African American governor in modern history and first Democrat to win the office since 1994.
When analyzing the numbers, Enten found that Gillum has a 27-point advantage over DeSantis when it comes to voters under the age of 45. Older voters still preferred Gillum, but the margin was much tighter — only 4 percent.
Nelson sees a three-point edge over Scott when it comes to voters over the age of 45. But with voters under the age of 45, Nelson's margin is a paltry 11 compared to the spread Gillum has.
"11 versus 27 — that's a significantly large gap and that helps to explain why Gillum is up more more in the poll than Nelson is," Enten said. "It's because those under the age of 45 are much more likely to back Gillum than they are to back Nelson, and that has allowed him to jump to such a large advantage."
Enten projects that Gillum will win by five percent and Nelson will hold on to his seat by two points.
Have a tip we should know? tips@mediaite.com