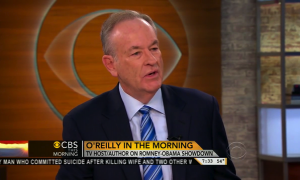 Bill O'Reilly discussed his reaction to last night's presidential debate on CBS This Morning with Charlie Rose, and one of the key points O'Reilly touched on was how disappointed he has been in general with the debate moderators. He did not criticize any of the moderators by name, but said that the way moderators conducts the debates allows for the candidates to obfuscate and shout at each other rather than being grilled on their positions. O'Reilly unfavorably compared the debates to a cable news talk show, saying President Obama and Mitt Romney should not be stooping down to that level.
RELATED: The Five's Warning To Bob Schieffer For Final Debate: 'Get Out Of The Way'
O'Reilly said that the moderators do not "press the issue" with the candidates, and so they are not faced with tough questions. Rose asked O'Reilly if he wanted a more "aggressive" moderator. O'Reilly said he just wants straight answers and moderators that hold them to that.
"I want answers to the questions. If you're going to say that Pakistan's our friend, as Governor Romney did, you're going to have to explain how you get there when Pakistan is actively killing U.S. soldiers. Not just say, 'Well, we have to be their friend.' How are you going to do that?… Those questions aren't asked by the moderators."
Rose defended Bob Schieffer's performance last night, saying Schieffer's goal was to get the candidates to "engage each other." O'Reilly completely rejected that premise, saying that the main goal of the debates is to have moderators "hold their feet to the fire on certain things that don't make sense," and to show the American public who the "stronger candidate is."
O'Reilly said that presidential debates should not be at the same level as arguments on cable news talk shows. He bemoaned the fact that the two candidates come in with their talking points and rehearsed answers and the moderators never call them out on them or try to shake them.
Watch the video below, courtesy of CBS:
—–
Follow Josh Feldman on Twitter: @feldmaniac
Have a tip we should know? tips@mediaite.com
Josh Feldman - Senior Editor