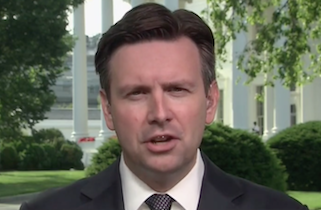 White House Press Secretary Josh Earnest said Thursday morning that the National Security Agency's bulk data collection had already been reformed, and that the renewal of the NSA's remaining surveillance abilities should sail through the Senate, where it is currently stalled.
"This program has been reformed," Earnest said on Morning Joe. "The government is no longer in the business of holding the data. We have reformed this program in a way to protect our civil liberties."
"Previously the federal government had been collecting this bulk data — these are the information related to phone numbers dialed, the length of the call, that kind of information. This is information that the government will no longer hold."
RELATED: Gretchen Carlson to Rand Paul: 'Will You Feel Guilty' if We Rein In NSA and Then Terrorists Attack?
Earnest said that telecom companies will still retain the information, but the government would have to obtain a court order to access it, ostensibly ending the kind of generalized warrants privacy advocates object to.
"This is information that our law enforcement professionals use on a regular basis to conduct law enforcement investigations," Earnest said. "We need to make sure our terrorism professionals have the authority that they need to get access to this information, with the approval of a judge, to conduct a national security investigation."
President Barack Obama called for the end of bulk data collection in 2014. But the House passed a significantly diluted version of the bill last year, one that fell two votes shy of obtaining cloture in the Senate. The NSA's surveillance powers expire June 1, leaving the agency and Congress up against the clock.
Watch the clip below, via MSNBC:
[Image via screengrab]
——
>> Follow Evan McMurry (@evanmcmurry) on Twitter
Have a tip we should know? tips@mediaite.com