Fox News Guest Defends Gov. Perry's Prayer Event: 'We Are A Prayerful Nation'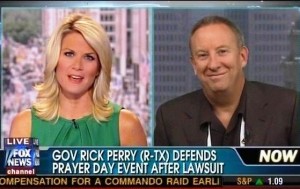 As you're likely aware, Texas Governor Rick Perry has been organizing a prayer event (Chron.com referred to it as a "Christian rally"), to be held next month in Houston's Reliant Stadium. The event has drawn criticism from groups concerned that the event violates the separation between Church and state. In fact, a group of atheists and agnostics have now filed a lawsuit against Perry, claiming the event is more political than spiritual. Perry hit back, calling his critics intolerant.
America Live interim host Martha MacCallum brought on radio host Mike Gallagher to discuss the debate. Gallagher, for one, believes "we are a prayerful nation." The argument where Perry is concerned, however, is that he is exploiting people who believe and want this to be a prayerful nation for his own political gain, especially as speculation on whether or not he'll set out to run in 2012 rages on.
Gallagher continued, drawing President Barack Obama's actions into the discussion:
There's more criticism about a Texas governor wanting to pray here in the great state of Texas than the President of the United States going on campaign appearances, Martha. I mean, it's completely incongruous; it's a double standard. I'm telling you, it's not an attack on Rick Perry. It's an attack on people who want to pray. This is why the Left goes after Michele Bachmann with such intensity, Sarah Palin, Rick Perry. These are people of faith who don't mind expressing their faith.

And Americans have to push back. I hope that thousands of people go to Reliant Stadium in early August in Houston. I want to be there; I want to bring my radio show there. I want to support this thing in a very big way. Enough is enough, Martha.
Watch the segment, from Fox News:
Have a tip we should know? tips@mediaite.com