'I WILL FIGHT': Twitter Roasts Elizabeth Banks Over Steven Spielberg Remarks (UPDATE)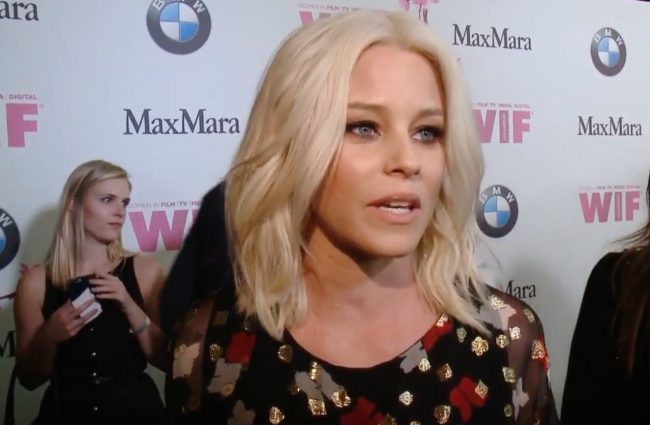 Actress Elizabeth Banks is getting blowback on Twitter after she criticized filmmaker Steven Spielberg for not having female leads in his movies.
While accepting an award from the group Women in Film in Los Angeles, she used the Oscar-winning director as an example of how not enough female stories are being told.
"I went to 'Indiana Jones' and 'Jaws' and every movie Steven Spielberg ever made, and by the way, he's never made a movie with a female lead," she stated. "Sorry, Steven. I don't mean to call your ass out but it's true."
Of the 30 features Spielberg has directed, one did have a female lead: the 1986 film The Color Purple starring Whoopi Goldberg.
And Black Twitter took note of her omission.
When you see all the good people of black twitter dragging elizabeth banks for ignoring The Color Purple pic.twitter.com/o6daY3uEa3

— Taco (@tacosoda) June 15, 2017
#BlackTwitter coming with receipts for all things The Color Purple related this morning like pic.twitter.com/HMkgu1Agzj

— Matthew A. Cherry (@MatthewACherry) June 15, 2017
Live look at the TL coming together because of The Color Purple slander pic.twitter.com/7h6KJDP7rk

— Matthew A. Cherry (@MatthewACherry) June 15, 2017
If I see ANY ONE trying to defend Elizabeth Banks statement about Spielberg and women by panning The Color Purple
I
WILL
FIGHT pic.twitter.com/ciGUA2fQqh

— Ash-teroid Blues (@tokenblackchick) June 15, 2017
Banks ignored The Color Purple because black women/ black narratives are only considered worthy if they are netting a white person an award.

— Shanelle Little (@ShanelleLittle) June 15, 2017
The color purple doesn't count?

All women aren't white. https://t.co/FXzzCJzqbN

— Zerlina Maxwell (@ZerlinaMaxwell) June 15, 2017
Film critic Anne Thompson also received blowback when she weighed in on the controversy by calling The Color Purple "a flop."
And the Color Purple was another flop.

— Anne Thompson (@akstanwyck) June 15, 2017
Let's just say Black Twitter rejected that tweet.
Black Twitter is sounding off against some white girl calling The Color Purple a flop. pic.twitter.com/iu7SPKI7Q7

— EstablishedQueerJoy (@mcgarrygirl78) June 15, 2017
To whomever called The Color Purple a flop.
Until you take that sh*t back everything you think about gonna fail pic.twitter.com/LcIeokZZk4

— DKT (@darleneturner53) June 15, 2017
how white do you have to be to consider The Color Purple a flop?

— king crissle (@crissles) June 15, 2017
The Color Purple is one of the most significant novels– & films– of the 20th century. Dismissing it as a flop in anyway is… ?

— Bree Newsome (@BreeNewsome) June 15, 2017
Thompson quickly walked back her tweet, acknowledging that The Color Purple made over $93 million in the box office.
On the Color Purple you are totally right! $93 million domestic! 78% Metacritic. No Oscars out of 10 noms.

— Anne Thompson (@akstanwyck) June 15, 2017
UPDATE: Elizabeth Banks issued an apology, saying she "messed up" and she "takes full responsibility."
— Elizabeth Banks (@ElizabethBanks) June 15, 2017
Have a tip we should know? [email protected]