Ana Navarro Tweets Fake Pic of LeBron In Desperate Attempt To Offend President Trump (UPDATE)
(Ed. note – this post has been updated to reflect the fact that Navarro deleted the initial tweet. See her explanation below.)
Ana Navarro is the perfect Republican analyst for CNN: She hates President Trump, she thinks enforcing immigration laws is racist and she wraps herself in identity politics to shame those who disagree with her. In other words, she's a Republican analyst who behaves an awful lot like a mainstream Democrat.
Don't get me wrong… Navarro calls herself a Republican and I see what happens to anyone who suggests she's more of a Democrat these days than a Republican. It's not pretty.
And, let's face it, she's worked on advisory panels for the successful presidential campaigns of John McCain, John Huntsman and Jeb Bush. So, when it comes to a winning Republican message, she's obviously got her finger on the pulse of Republican voters from sea to shining sea. So, far be it for me to question whether she accurately reflects the thinking and concerns of an average Republican in America, she's worked on way more losing campaigns than I ever have, so she clearly has exactly what CNN is looking for when it comes to Republican punditry: A losing message.
If CNN still wants to uphold even the slightest appearance of journalistic credibility (I know, I know… but let me make the point) they might want to have a word with Ms. Navarro over her recent Twitter activity.
In a desperate attempt to offend President Trump and anyone who is bothered by NFL players kneeling during the national anthem she used her Twitter account to send a banal and trite defense of the 1st amendment by posting an image of LeBron James wearing a t-shirt that appears to give a middle finger to the president:
Freedom of expression Makes America Great. Whether u approve or not, we're free to wear this. Could get u jailed or killed in some places.?? pic.twitter.com/GC48IhfcE5

— Ana Navarro (@ananavarro) September 27, 2017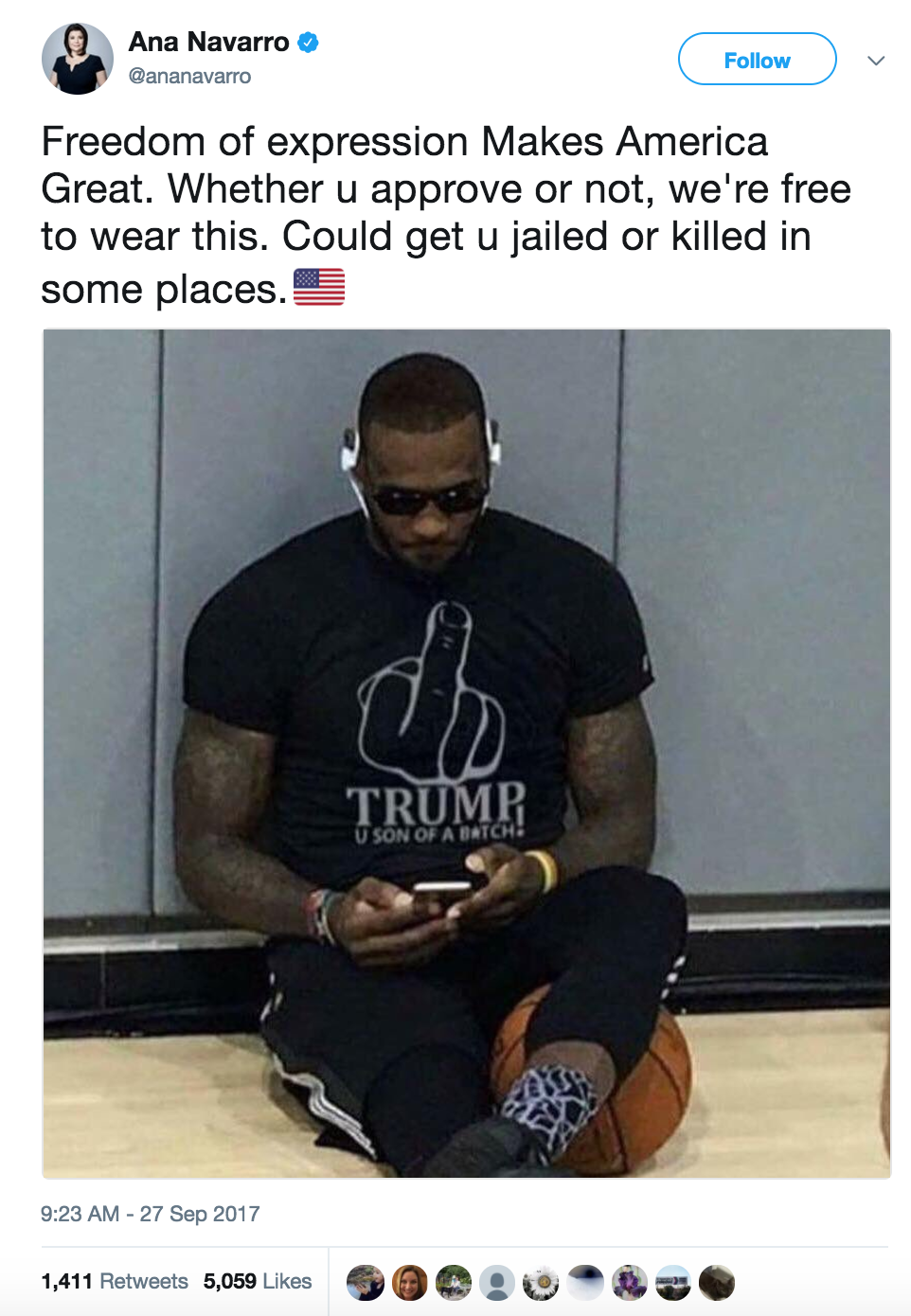 The mediocre sophistry accompanying the picture reads:
Freedom of expression Makes America Great. Whether u approve or not, we're free to wear this. Could get u jailed or killed in some places.
Edgy, right?
One problem, the photo's a fake. As The Daily Caller points out, the middle finger to Trump image was most likely photo-shopped:
The image appears to be a photoshopped version of a picture from the 2016 NBA Finals. That picture shows James wearing a shirt with a picture of the Undertaker — a professional wrestling character — on the front.
LeBron chilllin' before the @cavs #NBAFinals practice in Oakland. pic.twitter.com/3NNHtrk4gJ

— NBA (@NBA) June 12, 2016
No need to do a quick fact-check on the photo to see if it was authentic, after all, it perfectly suited Navarro's needs. The message was far more important than the truth. And when one is fighting a tyrannical fascist like Trump, truth is a luxury one can't always afford. And why should she even question whether the photo was authentic? I mean, everyone hates Trump, right? Especially an intelligent, enlightened professional athlete like LeBron James. There was no question in Navarro's mind that this picture was real. So why even go through the motions to verify it?
Except… she works for a cable news network that appears to pride itself on being "The Most Trusted Name in News."
So……
Will CNN do something about this? Is accuracy important to them? Is it a concern for CNN that one of their most high-profile analysts is willing to disseminate lies to make her larger point?
No doubt about it: Navarro's tweet is definitely "fake news." You'd think CNN would be sensitive to that these days. You'd think.
UPDATE: Navarro has deleted the tweet, adding:
I'm a fan of @KingJames, freedom of expression & accuracy. I tweeted a pic of him, unaware then, it was fake. I deleted it. So sorry, folks.

— Ana Navarro (@ananavarro) September 28, 2017
(Screen shot of deleted tweet via Daily Caller)
This is an opinion piece. The views expressed in this article are those of just the author.