PC Outrage Over Mandy Patinkin Replacing a Black Actor Leads Him to Withdraw from Musical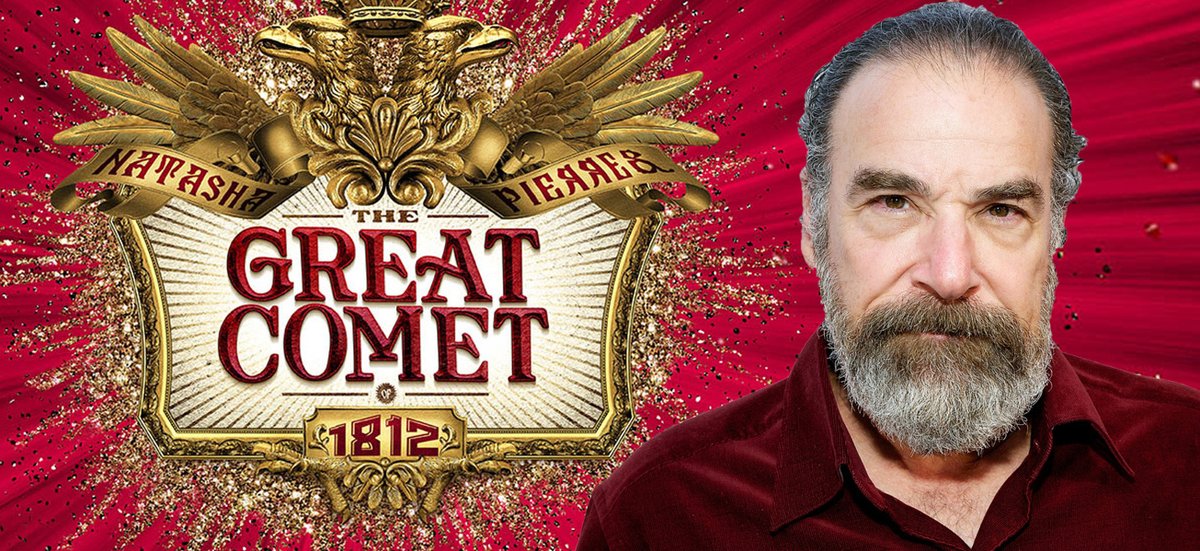 The PC police are at it again.
On Wednesday, it was announced that Mandy Patinkin was joining the cast of Natasha, Pierre & The Great Comet of 1812, the Tony-winning Broadway musical that earned 12 Tony nominations. However, the casting decision sparked an uproar on social media since the role he accepted was currently being played by Okieriete "Oak" Onaodowan. Patinkin was scheduled to take over for Onaodowan in August.
Social justice warriors made one thing clear; Patinkin, who is white, was "stealing" the job from Onaodowan, who is black.
Actors of color on Broadway are required to make themselves famous enough to be in the shows that white actors get famous from.

— RAFAEL CASAL (@RafaelCasal) July 26, 2017
??This is someone I love and respect dearly. I am an actor of color, who works on Broadway sometimes. This is a familiar feeling. https://t.co/IDMF2DZYy1

— Adrienne Warren (@adriennelwarren) July 26, 2017
Doesn't matter if this was pre planned the optics on it just aren't good. https://t.co/vK3sw87IHu

— Ariana DeBose (@ArianaDeBose) July 26, 2017
Oh I know this game…#BS #Nope https://t.co/RLPpWMT8kb

— Kristolyn Lloyd (@KristolynLloyd) July 26, 2017
So on Friday, Patinkin withdrew from the cast.
"My understanding of the show's request that I step into the show is not as it has been portrayed and I would never accept a role knowing it would harm another actor. I hear what members of the community have said and I agree with them. I am a huge fan of Oak and I will, therefore, not be appearing in the show."
As of now, Onaodowan's last show is still scheduled for Aug 13.
Amid the controversy, the show's creator Dave Malloy explained the rationale behind the casting change.
hey all. bit of a devastating last 24 hours. so sorry for how everything went down. nothing but love and artistic awe for @OakSmash 1/

— dave malloy (@dave_malloy) July 28, 2017
the show was in desperate shape; sales after ingrid leaving Aug 13 were catastrophically low. show would have closed 2/

— dave malloy (@dave_malloy) July 28, 2017
it's apparently a weird show. turns out it needs a name to sell it. 3/

— dave malloy (@dave_malloy) July 28, 2017
mandy is a beautiful legend. had no idea. he didn't ask to out oak, the show asked him to come asap because we were on brink of closing 4/

— dave malloy (@dave_malloy) July 28, 2017
so sorry to have missed the racial optics of it. we had to do same thing with dear beloved brittain so in my head it was no different. 5/

— dave malloy (@dave_malloy) July 28, 2017
please don't give mandy grief, he's devastated.
i am not sure that the show has a future now. 6/

— dave malloy (@dave_malloy) July 28, 2017
signing off now. going for ice cream or whiskey or likely both. so sorry. thank you for the love. 7/

— dave malloy (@dave_malloy) July 28, 2017
In other words, The Great Comet has been struggling to make money since its original star Josh Groban left the show in July. Onaodowan, who had recently appeared in the Broadway smash hit Hamilton, was cast to replace Groban. And the show essentially was going to force Onadowan out in August to make room for Patinkin in hopes to generate more revenue. Otherwise, the show could close.
It's no surprise that Malloy wanted Patinkin to star in his show. He is a Tony and Emmy-winning actor and people actually know who he is! On Broadway, he starred in Evita (which he won the Tony for), Sunday in the Park with George, and The Wild Party (both for which he scored nominations). He is also known for playing the iconic Inigo Montoya in The Princess Bride and starred on numerous TV shows including Chicago Hope, Criminal Minds, and most recently Homeland.
Now compare that resume to Onaodowan. Aside from Hamilton, he appeared in numerous shows on and off-Broadway and has guest-starred on an episode of Law & Order: Special Victims Unit and Girls.
In no way is that a smear of Onaodowan. He is a talented performer and at just 29 years old, he has a long and successful career ahead of him. But as Malloy made it clear, he simply isn't keeping the box office numbers up since Groban left the show in early July.
Social justice warriors, however, don't seem to understand show business. They only understand their own unhinged emotions.
Their outrage is that Patinkin was taking the role from a black man, though they refuse to acknowledge that same black man took the role from a white man. It's not like Patinkin was accepting the role of Martin Luther King Jr. It's apparently a character whose race does not matter. Clearly, it matters to a few hundred Twitter users.
Social justice warriors continue to make the same flawed argument. They claim they want equal treatment for minority groups, whether it's for blacks, women, Muslims, you name it. Yet, they make demands for employment specifically because they're either black, a woman, or Muslim instead of what actually matters; job performance. They say they want opportunity. Onaodowan had the opportunity! And despite how good his performance was, he failed to make The Great Comet money. And now they're demanding the show to not hire a well-known white actor and the show caved to their demands.
What these social justice warriors did was that they cried racism because of this casting decision, so what's stopping someone like me from turning the tables on them? I can easily cry anti-Semitism because they're preventing a Jew from starring in The Great Comet. I won't because that's just as asinine of an argument as the one they've made. That said, I'm sure if Patinkin were a Muslim actor instead of a Jewish actor, these social justice warriors would refrain from expressing such outrage.
The PC police are patting themselves on the back for stopping a white man from taking a black man's job, but what they don't realize is that they probably killed hundreds of more jobs in the process. Because of their knee-jerk reaction, the rest of the cast, everyone in the orchestra, and the entire production crew will probably be out of work before Thanksgiving since the show likely won't be making money. Patinkin had enough star power to give The Great Comet a lifeline and now these snowflakes put the musical on its death bed.
Political correctness is already destroying civil discourse. Sadly, it appears it has taken another victim; art.
This is an opinion piece. The views expressed in this article are those of just the author.