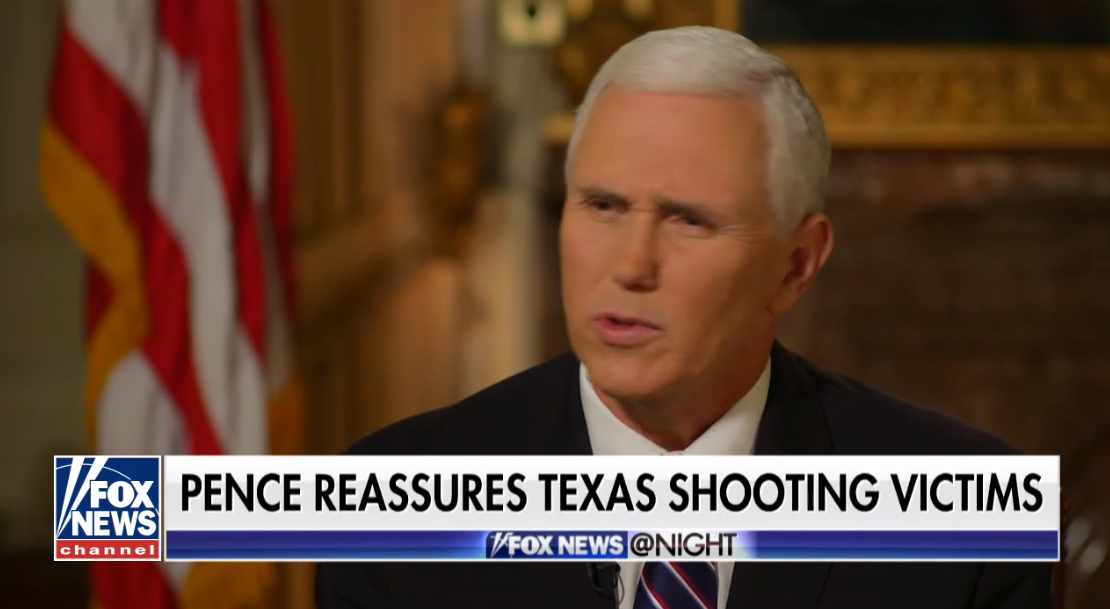 Vice President Mike Pence defended the power of prayer amidst an unprecedented public push-back against such outward declarations of faith after the mass shootings in Texas last week and in Las Vegas last month.
Speaking with Shannon Bream on Fox News @ Night Tuesday night, the Indiana Republican said prayer "takes nothing away from our determination to get to the bottom of what happened, to understand the why, to determine whether or not there were errors along the way."
The "errors" Pence referred to were the recent revelations that apparent federal government incompetence caused existing laws and background checks to not effectively be administered and applied when the Texas church murderer, Devin Kelley, illegally purchased the firearm used in last week's massacre.
"I'm a believer. I believe in prayer and I know that at this moment of such heartbreak and loss in that community that what most Americans are most able to do is pray for those families," Pence explained to Bream when asked about the recent spate of Democrats and pro-gun control activists in the media mocking conservatives for offering their prayers for the victims and families coping with the recent shootings.
"Right now I truly believe that covering those families in prayers, making a difference in their lives and they'll continue to support those families in that community in the days ahead." Pence said.
Don Lemon told his audience that "thoughts and prayers did not stop" the shooting in Texas from occurring. Democrat Congressman Ted Lieu walked out on a Congressional moment of silence this week as his colleagues paid spiritual respect to the victims of the shooting. His fellow Democrat John Lewis took to Twitter to challenge the power of prayer:
We must do more than mourn and pray for those murdered in Texas. We must act.

— John Lewis (@repjohnlewis) November 6, 2017
Meanwhile, many representatives of popular culture repeated the refrain including Stephen King, Chelsea Handler and best exemplified by Internet and SciFi favorite Wil Wheaton:
The murdered victims were in a church. If prayers did anything, they'd still be alive, you worthless sack of shit. https://t.co/iGHxPrYrLN

— Wil Wheaton (@wilw) November 5, 2017
Bream noted that when walking the rotunda with the Vice President, many citizens volunteered that they were praying for him.  "I can tell you that the President and I hear that often. They're the sweetest words we ever hear," he said.
This is an opinion piece. The views expressed in this article are those of just the author.