Trump's Election Integrity Adviser Pushes Voter Fraud Conspiracy Theory in Breitbart Article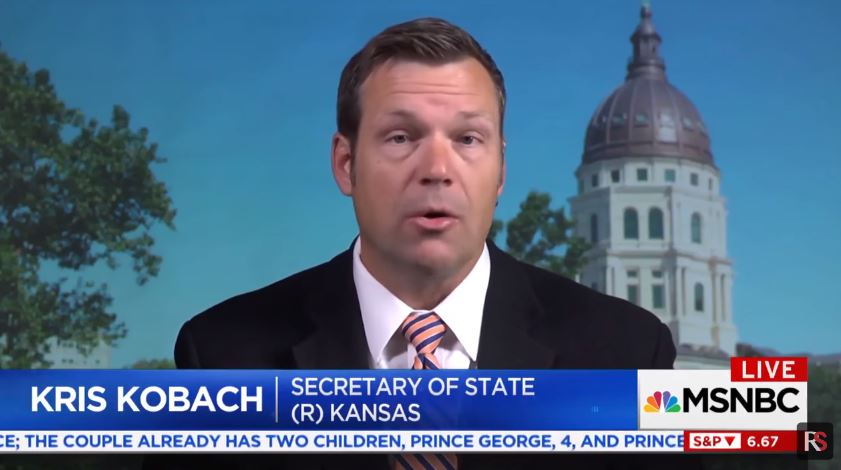 Say what you will about Kris Kobach, but he's a man who can wear many hats — even if one of them is made of tin foil.
His current employment ventures include vice chair for the Presidential Advisory Commission on Election Integrity, secretary of state for Kansas, and paid columnist for conservative firebrand Breitbart News — all of which play a role in his fight against voter fraud.
In his latest Breitbart piece, President Donald Trump's election integrity adviser performs mental gymnastics to promote his belief that voter fraud is a widespread issue in America — Kobach's article almost fits perfectly with Charlie Day's infamous mail room conspiracy meme from It's Always Sunny In Philadelphia.
"For years, the mainstream media has ignored the problem of voter fraud and belittled those of us who are trying to do something about it… Now, however, facts have come to light that indicate that a pivotal, close election was likely changed through voter fraud on November 8, 2016: New Hampshire's U.S. Senate Seat," wrote Kobach.
He goes on to expound upon said "facts," building up to what sounds like a major bombshell:
"In November 2016, there were 6,540 same-day registrants who registered to vote in New Hampshire using an out-of-state driver's license to prove their identity… a new resident has 60 days to obtain a New Hampshire driver's license… So if those 6,540 voters were bona fide New Hampshire residents, they would get their driver's license no later than January 7, 2017… as of August 30, 2017 – nearly ten months after the election – only 1,014 of the 6,540 same-day registrants who registered with an out-of-state license had obtained a New Hampshire driver's license. The other 5,526 individuals never obtained a New Hampshire driver's license."
Kobach also claims that those 5,526 votes in New Hampshire were "likely" fraudulent and are responsible for ousting an incumbent GOP senator. He later makes the assertion that this possible voting scandal is the reason why Republicans weren't able to ram through the Obamacare bill, as they lost the repeal effort by one vote.
However, aside from the outrageous claim, this article may prove more serious than it first appears. Kobach is employed by the Trump Administration to investigate voter fraud, while simultaneously being paid by Breitbart to publicize conspiracy theories relating to voter fraud. Essentially, Kobach is working to solve a problem that he is also paid to continually create examples of.
Government watchdog group Citizens for Responsibility and Ethics in Washington is questioning this possible conflict of interest. "Kobach's situation with Breitbart raises some ethical questions, namely was he granting them interviews in his official capacity while on their payroll? If so, then there are potential violations that may have occurred," said Jordan Libowitz, a CREW spokesman, in an email.
Additionally, Richard Painter, a vice chair for CREW and an ex-ethics lawyer for the George W. Bush administration, believes the relationship could even be illegal. "If he has an arrangement to get paid in the future, if he has an ongoing relationship when he's getting paid, or he's negotiating, then he shouldn't be giving them official capacity interviews," said Painter, per HuffPost.
Outside of his current voter fraud controversies, Kobach's state is being sued by the ACLU for implementing a proof of citizenship voting policy. This measure, which he played a part in crafting, was struck down by a federal court prior to the 2016 election.
Mediaite reached out to both Breitbart News and Kobach for comment regarding their relationship, the possible conflict of interest, and the secretary of state's compensation for aforementioned hot-take, but did not receive a response from either entity.
[image via screengrab]
Have a tip we should know? tips@mediaite.com