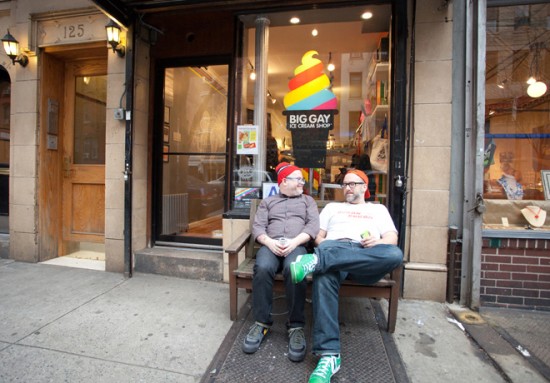 When Bryan Petroff and Doug Quint descended on Jersey City this week to share stories of their new cookbook Big Gay Ice Cream, with Top Chef veteran Dale Talde, they offered more than scoops of chunky Bea Arthur and Rocky Roadhouse in the courtyard of his recently opened Carrino Provisions. As the conversation veered toward GoogaMoogas gone wrong, Quint and Petroff praised the calming influence of Tom Colicchio.
"I had a hit off Tom Colicchio's pipe and it took the top my head off," Quint told the crowd, describing what got him through his first disastrous GoogaMooga, the perpetually calamitous Bonnaroo of food held at Prospect Park in 2012 and 2013. That night ended for Quint after he drove a golf cart into a briar patch.
Talde discovered that same buzz a few years earlier after getting close enough to Colicchio for a contact high: "The Top Chef season just ended and I was in the inner circle with Tom, Marcel, Hubert Keller… and one day I was like what the fuck is this?"
His Googamooga experience came to an even harsher end.
"It went horrifically wrong twice," he told the crowd. "After I knew it was going to be a complete bust, that I lost $15,000, I said I'm just going to get fucked up." After midnight, he rode a bicycle to nearby restaurant Pork Slope to meet his partner John Bush, and crashed into a parked car along the way. "Dude, I wrecked my arm," he told an incoherent Bush, before making his way to Methodist Hospital. "I'm waiting in line, it's Saturday night, and there's a slew of Saturday night drunk injuries. Knees torn up, black eyes — I turn to a girl in a miniskirt with messed up elbows, and she'd been there two hours. I thought I was going to be there all night, then a doctor called out — chef Dale Talde?!" The doctor took care of him right away, scoring VIP customer status for life.
Not to be outdone, Quint recalled his own emergency room saga, last August in Los Angeles.
"I'm laying in there in the ER hooked up to machines and the only other patients are tweaked out. It's West Hollywood — one guy is turning the pulse monitor on and off, and you need to be 19 to be released on your own recognizance, and his mother wouldn't sign off on him because he was too tweaked, which was amazing. So I was laying in there and heard over the PA incoming gunshot wounds! We saw a stretcher go by with a bunch of dudes in huge puffy coats around it."
"One was shot in the finger," Petroff remembers, "and the other was shot seven time in the abdomen, and that person… was Suge Knight! He left the MTV Video Music Awards and there was some kerfuffle."
"So it was a bunch of tweakers with their hearts beating 182 times a minute, and Suge Knight full of bullets," Quint recalled. "Cedars-Sinai is an awesome hospital."
Quint and Petroff were at work in Los Angeles opening their long-delayed west coast expansion of Big Gay Ice Cream, which they only leased after renting an ice cream truck to scout the city, something that will never happen if they open another New York location.
"I had to sign this document with the Greek mob saying I would never do a soft-serve truck in New York City, except with them," Quint told the crowd, laughing but not always kidding. "That's one reason you'll never see me on the streets of New York City in my own soft-serve truck — they'll take me out!" Those forces, which Quint said once followed home ice cream truck comrades the Van Leeuwens, prompted him to both change his number multiple times and keep an aluminum bat handy. But the mob wasn't nearly as worrisome as their fellow soft-servers.
"One of the other drivers was a Ketamine addict," Quint recalled. "He would try to put the ice cream on the pointed end of the cone, and he had syringes of Ketamine he'd bang into his legs through his jeans. One day he wigged out, he went past K-hole to total unconsciousness and customers had to call 911 to get him out of his truck."
That's the least offensive reason they shared to never order from an ice cream truck again. The stories and recipes in Big Gay Ice Cream, they're the most fun.
Follow Adam Robb on Twitter @lifevicarious.
Have a tip we should know? tips@mediaite.com