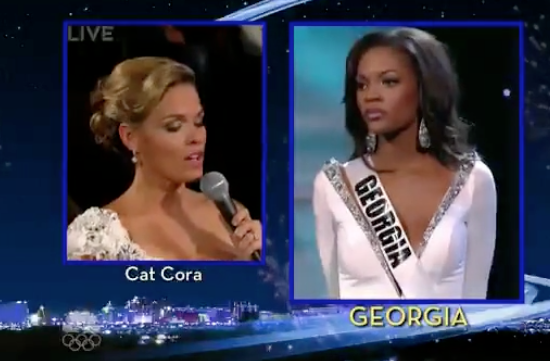 Cat Cora had plenty to do last night as a celebrity judge for the Miss USA 2012 Pageant, including judging women in bathing suits, judging women in evening gowns, and judging women based on the depth of their answers during a live interview portion. But she did get to speak once!
When finalist Miss Georgia (Jasmyn Wilkins) pulled Cora's name from a fishbowl, Cora asked her a question apropos of a celebrity chef: "The Mayor of New York City plans to ban the sale of large, sugary drinks. Does this go too far?"
"I don't think it goes too far, you know," Miss Georgia responded. "Those drinks have so much sugar in them, and they are unhealthy for you. They are kinda delicious. I love to have my Big Gulp when I go to 7-11. But I think that it is a little bit too much, and I'm glad that they are putting some sort of restrictions on it. So. I think it's a good thing."
Miss Georgia comes down on the side of Mayor Michael Bloomberg, whose proposal to ban large sugary drinks is controversial, to say the least. By the way, Georgia has the second highest rate of childhood obesity (40% of kids are overweight or obese), so Miss Georgia is clearly thinking about the children.

Sadly, out of the top five, Miss Georgia only ended up the fourth runner-up, clobbered by a woman who defended why she forgot who the Vice President was (she was "really tired"). The eventual winner, Miss Rhode Island Olivia Culpo, drew raves for her clutch answer to a Twitter question asking her opinion on the decision by the Miss Universe Organization to allow transgender competitors. (She supports transgender rights, by the way, and her answer drew the loudest cheers of the evening.)
Have a tip we should know? tips@mediaite.com