Ed Rendell Slams Debbie Wasserman Schultz, Liberal Pundits For Unreasonable Criticism Of Romney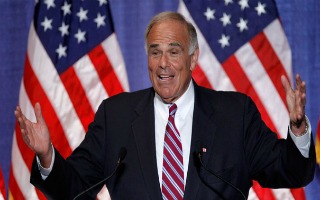 Former Democratic National Committee chair and Pennsylvania Gov. Ed Rendell slammed his present counterpart, Rep. Debbie Wasserman Schultz (D-FL) and liberal political commentators, on Philadelphia radio on Monday. Rendell told host Chris Stigall that they lose their credibility when they question former Massachusetts Gov. Mitt Romney's credentials to be president.

RELATED: Joe Scarborough Defends CNN After Ed Rendell Refers To 'Bad Ratings:' 'What Are You, Donald Trump Now?'
Stigall asked Rendell to weigh in on President Bill Clinton's appearance on CNN's Piers Morgan program where he characterized Romney's record with the private equity firm Bain Capital as "sterling."
Stigall said he considers Clinton the "master of the backhanded compliment." Rendell replied that, despite the appearance of daylight between him and President Barack Obama, Clinton will be behind the President by October "when it counts."
Rendell discussed his time as the chair of the DNC and the controversial statements he made in the wake of an interview that then-Texas Gov. George W. Bush gave in which he was asked to name the leader of a South Asian nation and could not. Rendell said he was asked if that disqualified him for the presidency and he replied "of course not."
"All hell broke loose," said Rendell. "People wanted me fired as DNC chair. For a day and a half, all hell broke loose."
Rendell said that then-President Clinton was later asked that same question and gave essentially the same response that had earned Rendell the ire of the Democratic commentariat. Rendell said he felt vindicated by Clinton's answer. "I said, you got trouble with what I said, take it up with the big guy," said Rendell.
Stigall pivoted to DNC chairwoman Wasserman Schultz who he said operates in a "different universe" than how Rendell operated during his chairmanship.
"I agree with that," said Rendell. He helped praise on former Republican National Committee Chairman Michael Steele who he called "effective."
"He went out of the box," said Rendell. "He said what he believed and it gave him credibility."
Stigall asked if Wasserman Schultz should answer questions about Romney's credibility surrounding inconsequential issues in the same way Clinton did regarding Bush's response to the question of Asian leaders.
"Absolutely," answered Rendell. "You lose your credibility. I mean this is – and no offense to Herman Cain – this isn't Herman Cain. Governor Romney has significant experience which very much qualifies him for high executive office in this country."
"So, then I can get you on tape today saying Debbie Wasserman Schultz is an unserious, uncredible chairman of the DNC," Stigall pushed.
"No, Debbie's a good chairman in the sense that she works hard, she inspires the base, she gets people excited," said Rendell. "I think in the end, you've got to be credible. There's nobody out there who thinks that Governor Romney is unqualified."
Listen to the segment below via 1210 WPHT:
Follow Noah Rothman on Twitter
Have a tip we should know? tips@mediaite.com