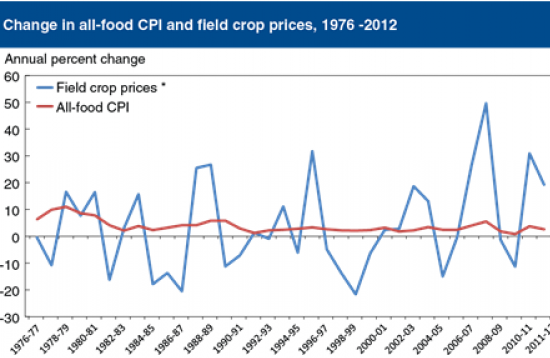 "The Year in USDA Food Charts" sounds like an Onion article or a Buzzfeed listicle, we know. But this is a real list of charts that the USDA actually designated the best of 2013. For real.
For instance: did you know that "half of all US crop farmworkers are not legally authorized to work in the US?" Or that families with disabled members are less likely to have consistent access to food? Or that the food that American families buy are totally out of sync with the USDA's dietary recommendations? Honestly, though, these words mean nothing without some good ol' fashioned chart action to back up what is actually some disturbing data. (Like food insecurity growing faster than inflation. That's pretty scary stuff.)
But the number one chart of 2013, according to the USDA's list, has nothing to do with hunger or diet — rather, it has to do with America's number one frenemy, China. Apparently, our agricultural exports to China have increased over the past ten years, despite the fact that China has started subsidizing its domestic farming:
China has been an important source of recent growth in U.S. agricultural exports, and there has been concern about the implications of recent increases in China's domestic farm support. While it is often presumed that subsidies and price supports give Chinese farmers an advantage, these policies actually may improve prospects for U.S. agricultural exports by raising costs and prices of Chinese commodities above international levels.
WOOOOOOO! Charts are sexy!
[USDA.gov h/t Sam Sifton]
RELATED:
LIST: Here's What Happens to Your Food When the Government Shuts Down
After House Cuts SNAP Benefits, Tom Colicchio Blasts GOP as 'Pro-Hunger'
7 States Resume Buying 'Pink Slime' for School Lunches, Point to Budget Cuts, Nutritional Standards as Culprit
Have a tip we should know? tips@mediaite.com