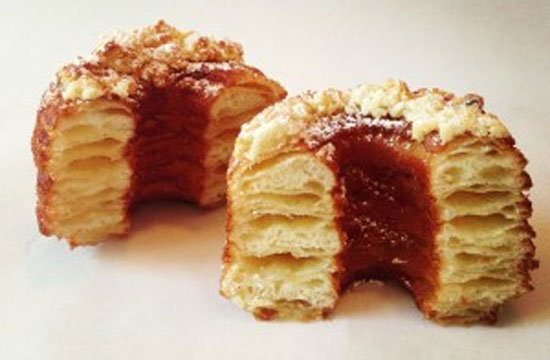 Yesterday we reported that Questlove of The Roots was exchanging air time on Late Night with Jimmy Fallon to get his hands on a few Cronuts. He's not as "abusive" as bandmate Black Thought, who sent his assistant to wait in line at 5:00 AM, he said. Today, a Twitter exchange has tipped us off to yet another high-level Cronut trade, and we've realized that the crusty Dominique Ansel creations might be more than just a slow-news-summer food trend. They are liquid assets being used to reinvigorate New York City's economy, bringing it back to the barter system on which depression-era garment workers and butchers thrived. They are bathtub gin during prohibition. No one can get them (except people who can wake up at 5:00 AM, so, no one), and everyone wants them.
Today, Momofuku Milk Bar tweeted straight at Ansel himself, saying "can we please do a crack pie for cronut(s) trade? our pastry lovin' selves can't hold out any longer!" That's the ticket, Momo! Use what ya got! That's that entrepreneurial American spirit our forefathers had in mind.
Ansel responds that he'd be game to send over the Cronuts, as long as Christina Tosi and David Chang get a taste. When the Milk Bar team tweets again within minutes, inquiring into who they can contact in order to facilitate this trade, it seems like Ansel might have thought they were kidding.
You should know by now, Ansel, that no one is kidding when it comes to Cronut acquisition. Life, liberty and the pursuit of Cronuts.
@momomilkbar Your guys are so sweet…I'm happy to trade. Just save a bite for @ChristinaTosi and @davidchang.

— Dominique Ansel (@DominiqueAnsel) July 9, 2013
@momomilkbar @ChristinaTosi @davidchang Heh. Okay, send me a DM.

— Dominique Ansel (@DominiqueAnsel) July 9, 2013
[Twitter]
RELATED:
Dominique Ansel Coming To Late Night Because Questlove Has A Cronut Craving
Man Seeks 'Cronut Slut' On Craigslist In Exchange For Sexual Favors
Not Even The Director Of The James Beard House Can Get Cronuts
Have a tip we should know? tips@mediaite.com