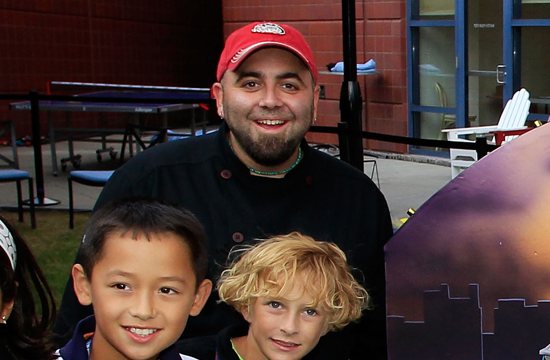 Have you ever sat in front of your TV watching Ace of Cakes and thought to yourself, "Dang! I would really like to have all of those cakes shaped like cars and planets and Millenium Falcons! Too bad those cakes cost a fortune and there is only one place in the world where I can get anything made by Duff Goldman! And sadly, I don't live in Baltimore, because I think that it's exactly like The Wire."
Despair no more, because Goldman and crew have launched Cakemix, a decorate-your-own-cake store where you can use all sorts of fondant sculptures and airbrushed cake graffiti and piping bags to make your own fancy cakes starting at $36 (or four cupcakes for $18, they don't discriminate).  Customers can also take pre-decorated cakes home, or buy a "to-go" kit to Ace all their Cakes at home.
Man, Duff, this sounds like a Color Me Mine, except with pre-baked cakes in six flavors instead of plaster unicorn sculptures! "With the pottery places you've got this plate sitting around for a while," he told the AP. "With this, you make a cake, you take it home, you invite a bunch of friends and you eat it." Fair enough. And also unlike Color Me Mine, Cakemix has a cafe out front for parents who want a break while their kids run around inside, high on sugar. Smart.
Cakemix opened its first location in Los Angeles yesterday, but Goldman hopes to eventually have two dozen locations in the United States, as well as one in Tokyo. Goldman also has a Cakemix food truck that's available for parties, because in LA, a truck is a sign that you've Arrived as a chef.
[h/t Associated Press]
Have a tip we should know? tips@mediaite.com