England's Deputy Prime Minister Walks Back Insensitive Comments On Nigella Lawson Scandal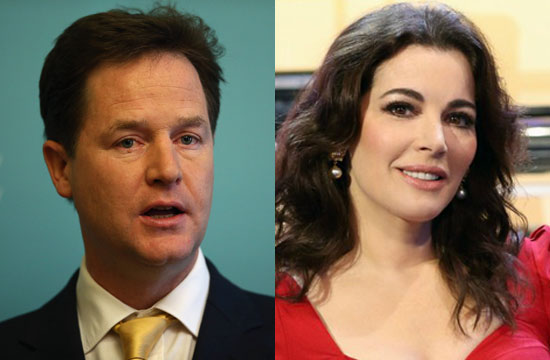 There are times when one should not run one's mouth about a high-profile, alleged domestic assault case; and those times are when one is Deputy Prime Minister of England. Nick Clegg didn't get that memo and held forth when asked about photos showing Charles Saatchi wrapping his hands around the neck of his wife, Nigella Lawson.
On his weekly radio show Call Clegg a listener asked the Deputy PM what he would do if he were sitting at the table next to the couple — and his answer, according to The Guardian, was unsatisfactory:
He said it was difficult to comment on the incident because there was "one photograph" and it may have been fleeting.

Clegg said: "I don't know what happened. When you see a couple having an argument I think most people just assume that the couple will resolve it themselves. If of course something descends into outright violence then that's something different.

"I just don't know. There's this one photograph. I don't know whether that was just a fleeting or … I'm at a loss to be able to put myself into that position without knowing exactly what."
This sparked an outcry among women's rights advocates in Parliament, with Shadow Home Secretary Yvette Cooper issuing a statement of condemnation.
"Nick Clegg revealed how little he understands violence against women this morning. Far too often violence against women is dismissed as fleeting or unimportant. Too often public institutions don't take it seriously enough. Domestic violence is still a hidden crime, and victims suffer or are ignored as a result," she said. "Ministers should show they are prepared to condemn this kind of violence against women and that they recognise the seriousness of domestic abuse."
For his part, Clegg immediately apologized and clarified that he meant that he couldn't comment on a specific situation without knowing all the facts. He said, "I completely condemn all forms of domestic violence." And, "As I said on the radio, my instinct would always be to try and protect the weaker person, to try and protect the person who otherwise would be hurt."
A spokesman for 10 Downing Street backed Clegg's apology: "Rather than comment on the specifics I would make the comment around domestic violence being appalling. Domestic violence should be condemned in the strongest terms. Simple as that … Full stop." Generally, good advice.
Have a tip we should know? tips@mediaite.com