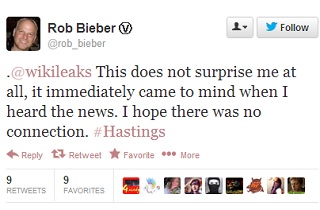 The tragic death of 33 year-old reporter Michael Hastings has spawned several lesser media dramas, including outrage at Geraldo Rivera for his qualified expression of condolence. One major, developing subplot, Wikileaks' decision to tease a revelation about Hastings' death, that the reporter told their lawyer that he was being investigated by the FBI, has spun off a mini-drama involving pop idol Justin Bieber, by one degree of separation. Prompted by Wikileaks' revelation, Bieber uncle Rob Bieber tweeted his immediate suspicions about Hastings' death, and his "hope" that there was "no connection."
Wikileaks began the controversy by tweeting, Wednesday afternoon, that "Michael Hastings death has a very serious non-public complication. We will have more details later."
The tweet drew sharp reactions from some, like me, who thought the tease was cheap and exploitative. Wikileaks followed up several hours later by tweeting "Michael Hastings contacted WikiLeaks lawyer Jennifer Robinson just a few hours before he died, saying that the FBI was investigating him."
Hastings died in a car accident in Los Angeles on Tuesday, and Wikileaks' tease, combined with their context-free revelation, made the unmistakable suggestion that perhaps the two were related, a suggestion that was not lost on Rob Bieber, who tweeted "This does not surprise me at all, it immediately came to mind when I heard the news. I hope there was no connection. #Hastings"
Bieber was immediately sidetracked by a Belieber, who asked him "you are a Bieber, so please, help us, bring bieber to brasilia in Brazil , say for him pleaseeeeee," to which Bieber replied "Please do NOT ask me this again, i have nothing to do with tours. EVER. Obrigado."
The Wikileaks tweet has begun to fuel conspiracy theories among others, as well, reports The New Yorker's Joe Coscarelli:
"Yeah," BuzzFeed editor Ben Smith confirmed to Daily Intelligencer. "Before his death, Michael told a number of his friends and colleagues that he was concerned that he was under investigation."
But other, less reputable sources have taken the speculation much further. "Vince Foster-like murder plot emerging in Los Angeles? Did the Obama administration knock off a star reporter?" asked one blog early on Wednesday, adding to existing conspiratorial Twitter chatter. Another wrote, "Admit it, Michael Hastings' Death is Weird and Scary." Hours before revelations about a potential FBI investigation, InfoWars, the Alex Jones website that serves as a catch-all conspiracy-theory clearing house, mentioned Hastings's death with an editor's note: "Journalists who mess with government and military power often die under mysterious circumstances." None had more than conjecture.
The FBI has not yet responded to my request for comment, but they're unlikely to comment in any case, which means that speculation surrounding Hastings' death will continue to grow. The facts, as Coscarelli notes, don't come anywhere close to justifying it.
Have a tip we should know? tips@mediaite.com